DVC's best bites
The diversity of food available on campus can often go overlooked.
Getting a bite to eat can mean anything from grabbing a candy bar and coffee at the bookstore between classes to sitting down to fine dining at the Norseman Restaurant.
Over time students discover their top spots and the rotating schedules to which they can expect their favorite dishes.
The following is a sample of DVC's best bites according to your peers.
Where do you like to eat on campus?
Jocelyn Tan enjoys her pork kung pao, broccoli and chow mein from the Express Bar on the second floor of the cafeteria on Wednesday, March 15th.
This is Jocelyn's first time trying Chinese food from the the Express Bar. She usually enjoys the American and Japanese food they serve.
People can be turned off from ordering in the Express Bar because they think it will take too long but Jocelyn disagrees.
She feels even though the lines are long they usually move really fast.
She also likes the large variety of sides so you can choose how healthy you want your meal to be.
For example, the vegetable options in the meal pictured below are curry potatoes, green beans, eggplants, yogurt cucumber salad and roasted squash and zucchinis.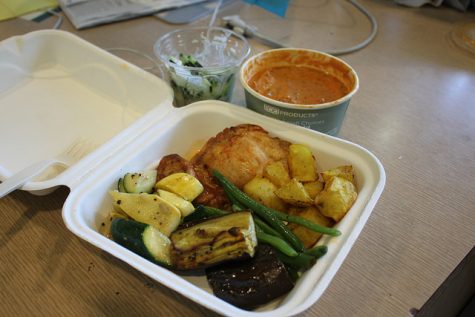 This meal was purchased from the Express Bar the day before on Tuesday, March 14th.
The theme of the day was Indian food and the entree items were tandoori chicken and chicken tikka masala (pictured in the cup).
The two value meals and cucumber salad cost $14.75 total including a $1.50 tip.
Conversely if you wanted to spoil yourself you could head to the Pastry Shop right next to the Express Bar.
Pictured below is a cream puff pastry, cinnamon raisin bagel, chocolate hazelnut ice cream (yes, it is as delicious as it sounds), a vegetarian quiche and jalapeño cheese bread.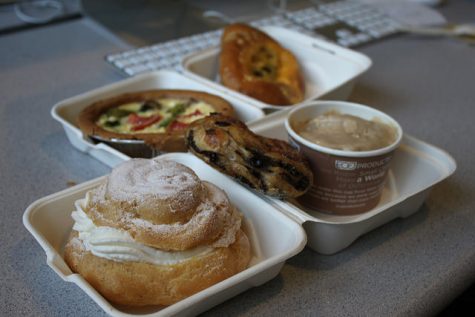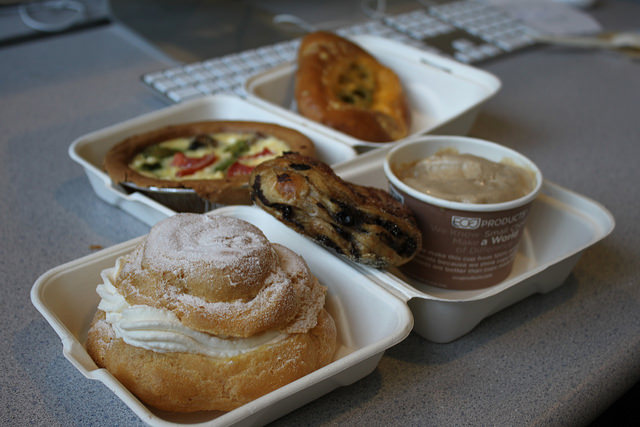 This meal was purchased on Thursday, March 16th for $6.25.
Normally it would have cost $12.50 but after 11 a.m. on Thursdays it is 50 percent off because the pastries won't last through the weekend and the pastry chefs want to avoid throwing them out.
The Express Bar and Pastry Shop offer a wide variety of choices in terms of both nutrition and flavor and they are not the only ones.
The Main Street Bistro located downstairs from the Express Bar and Pastry Shop has more options to choose from.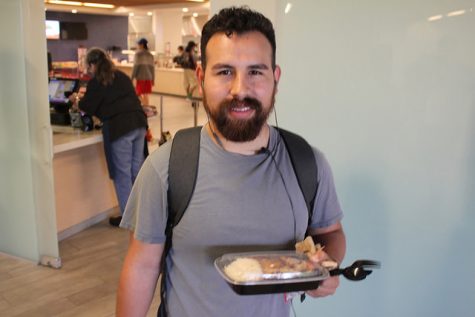 Marcos Rios is trying a chicken teriyaki plate, his first meal from the Main Street Bistro on the ground floor of the cafeteria, on Wednesday, March 15th.
"I'm not a food critic, I like simple things and I think it will be fine," said Rios.
The cafeteria is closed when he is on campus for evening classes and he normally gets food from the bookstore.
Speaking of food from the bookstore: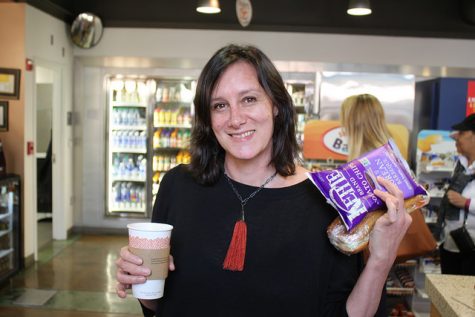 Professor Kristen Koblik holds her sandwich, Korean barbecue flavored Kettle chips and a latte she purchased at the bookstore on Wednesday, March 15th.
In her opinion, the food has only fair to middling nutritional value but the sandwich will be two meals for her.
"I was just thinking, I like these sandwiches as I was walking over here," said Professor Koblik. "I'm faculty, I've been here awhile. Pickles, mustard…it's all good."
Last but not least there is the Crow's Nest, located on top of science hill between the Physical and Life Science Buildings and the Advanced Technology Center.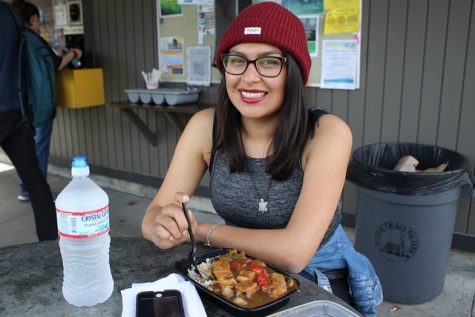 Angelica Orellana eats her mushroom tofu over rice from the Crow's Nest on Wednesday, March 15th.
She feels the food is healthier than what you get from the cafeteria and the value is not bad because a small pizza from the cafeteria costs four dollars while her meal cost five dollars.
She feels getting food from the Crow's Nest is very convenient, especially if you go during class periods when the lines aren't as long, but the only thing that sucks is they close early.
Of course if you are wondering why the Norseman Restaurant isn't featured here don't worry!
We have you covered thanks to our very own Erin Smith.
So where do you like to go for your favorite meal on campus?
Reply in the comments with your best bites around DVC. We would love to hear from you and happy eating!