DVC houses first design show representing four different types of art
Ali Lee, Staff member
December 6, 2017
Hang on for a minute...we're trying to find some more stories you might like.
The Diablo Valley College art gallery is showing off students' work in its first ever design show.
"Design at DVC exists in several distinct forms. The common core being the notion of process," said art and digital media professor Tony Bennett.
"Problem, process, solution: Design thinking made visible" is created by all student work and it is the first time that anything like this has ever been in the gallery.
It took a while to think of the perfect title for the show because they wanted to be able to show the process in design through it.
The show includes work from a variety of different programs including industrial design, architecture, graphic design and landscape design.
"The architecture work displayed encompasses a variety of student projects in model making, drawing, watercolor, ink wash and digital media in the first and second year architecture studios," said DVC architecture instructor Daniel Abbott.
This show is all based on the process of how each piece of art continues to grow as it is being created.
Most of the art that is in the show is actually unfinished, that way it can show people the process that the students took to get to the finalized pieces.
"As a part of the art department we really admire the connection between art practice and the design of it all," said Art Department Chair Hopi Breton.
One of the exhibits shows the work from the billboard design competition, Inspire Oakland.
This is one of the biggest design competitions in the Bay Area and it includes over 550 students, seven of the students being Diablo Valley College digital media students. A total of four DVC students won and their designs are now on billboards around the city of Oakland.
In the gallery, there are all of the finished products of the billboards as well as the process in which the students used to design the finished product.
There was a closing reception on Nov. 30 with a live jazz band, snacks and an award ceremony.
Many people were recognized during the ceremony including Grant Barringer, the winner of the Inspire Oakland Billboard Design Competition.
Kim Jedamzik also participated in Inspire Oakland and was honored at the ceremony because of her passion for design and all of the work she did in order to understand religion in Oakland.
When it comes to design and art people usually only focus on the final product rather than what the artists did to create the product which is exactly why this show is being put on.
"Everything in your life has been filtered through someone else's thought process," said Bennett.

About the Photographer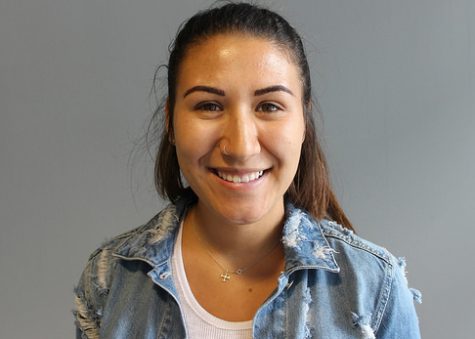 Ali Lee, Staff member