"The Kipling Was More Than a Hotel, It Was Home:" Don Reed's One-Man Show Inspires And Uplifts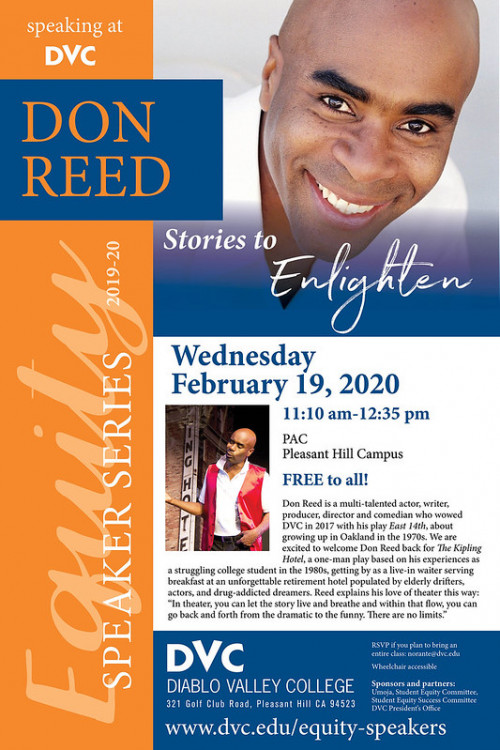 In a tasteful and comical rendition of his acclaimed autobiographical one-man show, "The Kipling Hotel," renowned playwright Don Reed transported an audience of Diablo Valley College students and staff back to the 1980's to the run-down early retirement facility that sheltered him in his underfunded collegiate years and gave him a sense of belonging.
The show, which took place Feb. 19 at the Performing Arts Center, painted a vivid picture of Reed's early life as a penniless college student in Los Angeles, struggling with self-acceptance before gaining room and board at the unforgettable Kipling Hotel where he served breakfast to its elderly but remarkable residents.
The show began with Reed making his entrance on to the stage in slow motion accompanied by loud disco music blasting through the speakers. The music ceased and he launched into a rap song, making beats with his mouth to go along with his lyrics.
"The Kipling Hotel, I served scrambled yolks to the elderly folks," he rapped, introducing his story before launching into a profound narration. "The Kipling/I spent my college years/I drank my college bears/I faced my Hollywood fears. The Kipling…"
Born in Oakland in 1959, Reed, like most 20-year-olds in that era, occupied his time with excessive partying. Beneath it all, however, was a brilliance that became evident when he gained admission to the University of California, Los Angeles on a speech and debate partial scholarship. It was a proud moment for him, Reed recalled.
"I didn't know anybody from Oakland who made it all the way to UCLA," he said.
But it wasn't easy from the start. He arrived at his new college only to find himself broke and homeless. With limited options for shelter, Reed resorted to couch-surfing in dorm rooms, sleeping on the bus until it reached the end of its route, and sometimes even sneaking into the women's bathroom where there was a couch to sleep on.
Ashamed of his circumstances, he hid the personal details of his life from friends and family.
"I was homeless while in college but I couldn't tell them I didn't make it," he said, referring to his mother, father, stepfather and grandmother back in Oakland. "I couldn't go back and tell everybody that I couldn't make it work. So I kept doing stuff I wouldn't normally do."
By that, he meant lying to friends about where he was from, lying about where he lived, checking the vending machines for spare change and stealing students' textbooks to sell them at the book buyback and earn money for food.
His ordeal resonated with DVC students, many of whom have also fallen on hard times while struggling to balance the demands of college life.
Sociology major Louise Edwards, who was previously homeless for eight years, said she was deeply moved by Reed's journey from a financially desperate college student to the successful performer he is today.
"I felt very inspired and encouraged because if he can come from humble beginnings and push through academically even though he was met with many challenges, I'm encouraged that I can do the same," she said.
Edwards also commended Reed for his unending drive to succeed and make something of himself no matter the costs.
"He just kept trying to better himself and was willing to do whatever it took," she said.
Reed tried his hand in a variety of jobs, including attempting to become a stripper, before finally gaining employment and shelter at the Kipling.
The hotel, a 6000-square-foot structure of solid red bricks, "walked a fine line between exquisite and shitty," Reed said. However, it was within those walls that he received a variety of life lessons which inched him closer to self-acceptance.
"I started realizing who my friends were," Reed said, referring to the hotel's elderly residents who included a direct descendant of slaves, a Holocaust survivor, and a mentally challenged woman who, among others, he described as his "little friends."
In the performance, he gave life to each hotel resident employing a mix of voice mimicry and facial contortions to create believable and comical impressions. Members of the audience applauded Reed's expressive storytelling technique.
"He has so much talent," Edwards said. "He opened my mind to so much more creativity in the world."
Reed eventually said goodbye to the Kipling, taking with him all the advice passed on by its residents. He maintains that the hotel occupies a special place in his heart.
"It may seem trite but the Kipling was more than a hotel," he said, "it was home. After I was homeless, it was home."
Rikell Moody, a biological science major, explained how significant Reed's story was to her as an African-American student.
"It was very inspirational because he was actually successful in his life," she said. "It was good to hear something positive in Black History Month because we normally don't get that a lot, so it's always good to hear it."
Reed's history as a community college student who eventually gained admission to a prestigious university was especially relatable and inspiring to DVC students who are seeking to transfer to four-year colleges.
"His story is impactful because he was in community college for three years," Edwards added.
"Coming from Oakland, then getting accepted into UCLA! That's very impactful because if he can do it, I can do it."
As the show reached its end, the comedic atmosphere gave way to nostalgia as Reed reflected on the personal growth he achieved during his time at the Kipling.
"I used to be ashamed of the Kipling Hotel, but not anymore," Reed said.
"I used to be ashamed of Oakland, not anymore. If somebody wants to judge me based on where I live – somebody wants to judge you based on who you are, disabled, non-binary, trans, whatever it may be – you can't listen to them."
About the Contributors
Uchenna Esomonu, Managing editor
Staff member, fall 2019.

Managing editor, spring 2020