ASDVC nominates new executive board members for the 2018-2019 year
The Associated Students of Diablo Valley College will see some new faces on the executive board as the nominations for the campus' student government leadership positions were chosen on the Tuesday, March 6, meeting.
According to the ASDVC bylaws, board members hold their position for one year, and range from the highest position of president to positions such as public relations and secretary.
Nominations for the position of ASDVC president include Trey Dao, a veteran and heavily involved member of ASDVC, Sharita Snagg, the vice chair of the Inter Club Council, and John Michaelson, who has held numerous positions not only on the ASDVC board, but on the Contra Costa community college student senate.
This is not Michaelson's first attempt as president, as he previously ran against the current president, Kevin Zhang, last term.
When asked why he decided on running again, Michaelson responded with, "I am running for president because the students need a more forceful voice to advocate for our right to a safe education; and I will support policies to safeguard our rights and our safety."
The general elections will be held online, and as suggested by Dao, and unanimously passed by the rest of ASDVC, the the $2,500 estimate needed to pay for the elections will be taken from the "miscellaneous" category of the ASDVC budget.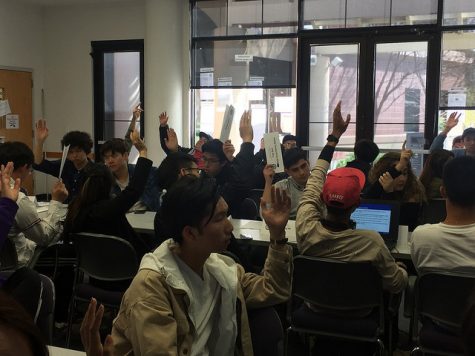 The finances were originally going to be pulled from the general election budget, but Dao made a point of saying that some issues may arise that have nothing to do with the elections themselves.
"Since the elections are online, we may run into some issues technology wise…and we may need to do some physical advertising," said Dao.
In the process of electing new members, a current member of the board has been removed.
The position of controller, or in other words, the student in charge of working with advisor Todd Farr in maintaining ASDVC monthly fiscal reports, was previously held by Andy Zhang, but was removed because of three strikes of lack of attendance.
According to the ASDVC bylaws, this is subject for removal not just from the board but from ASDVC itself.
A member of ASDVC spoke up and asked whether Zhang has expressed interest in being removed from the position.
Zhang replied with, "Andy unofficially wanted to resign, but did not provide me with an official document of resignation."
Nominations for the position of controller were also made.
As elections get underway, become self-aware on how your student government works by coming to an ASDVC meeting which are always open to the public, and run every Tuesday from 2 p.m. to 4 p.m, as well as reading up on the government's bylaws, which are linked below.
ASDVC Bylaws
https://orgsync.com/150960/files/1371090/show