The newly formed safety committee moves forward with proposed safety measures
Hang on for a minute...we're trying to find some more stories you might like.
The newly formed Diablo Valley College Safety Committee moves forward with revamping their campus safety and security plan.
After the threat that caused DVC to shutdown on March 22, many students and teachers have become concerned with the plans that the campus has in place.
On Wednesday, April 4, the newly formed committee held their first meeting in hopes of revamping of DVC's safety plan.
The committee consists of many heads of different departments such as Disability Student Services, Police Services, Maintenance and Operations, the Student Life Office and CARE Team, which will be led by three tri-chair members; Lisa Martin, Toni Fannin and Michael Colson.
"We didn't think particular people, we thought particular positions should be represented…it is atypical in that is not one of those committees where we have three faculty, three classified, and three students," said Fannin.
"This a group that is more about functionality and getting things done."
The committee is proposing some new safety measures that could possibly help the school in a crisis situation.
One of the most notable measures is to start employing safety monitors in every building and department.
The other safety measures that the committee would like to put in place would be having safety helmets and first aid kits in staff and professors' offices.
The committee would like to put radios wherever they can, just in case of an emergency.
The purposed place would be places like teachers' offices, classrooms and administrative offices, but the committee will have to go through another council.
"We will not actually be making those right decisions ourselves, we will be making recommendations to College Council," said Fannin.
The safety monitor will not be emergency medical technician or emergency medical responder trained, it will only have the training of safety monitor according to Chrisanne Knox, DVC's Public Information Officer.
The training for the safety monitor is also not fully determined, the training could be in house or outsourced to another agency.
"If it's a department within the school it would be the police department, but we might explore hiring an outside agency," said Knox
"We are taking on a certain level of the training, but sometimes we have to outsource…such as we may have somebody that comes in and does first aid and CPR training," said Lt. Ryan Huddleston of Police Services.
"Now the police department help facilitate that but we weren't the ones that trained them… so we are linked to it, but we may not necessarily one hundred percent be the trainer," said Huddleston.
According to Huddleston, the possible outsourcing agencies would be like American Medical Response because they live in the medical world, compared to the police which is mostly law and legal expertise.

About the Writer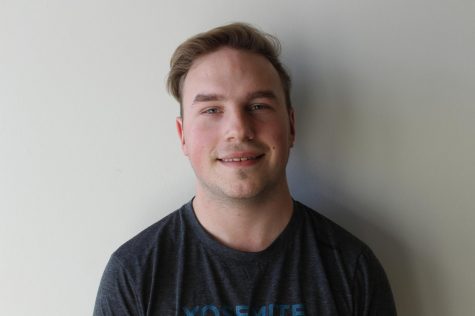 Casey Riggs, staff member
Staff member, spring 2018.