ASDVC election nullification leaves future of student clubs and organizations uncertain
The ripple effect of the recently nullified Associated Students of Diablo Valley College election has reached the Inter-Club Council, leaving current board members uncertain of the future of the council's leadership and students' ability to access funding.
When the first meeting of the fall semester arrives on Sept. 6, there will be no leadership to run the meetings. Subsequently, funding requests made by student organizations cannot be approved by ASDVC, effectively blocking student access to the council's budget.
John Michaelson serves as the current commissioner of parliamentary protocol, and he outlined how the lack of ASDVC members brings uncertainty to the council.
"The ICC board is always elected in the fall, but the whole thing is that there is no leadership whatsoever in ASDVC," said Michaelson.
Without an ASDVC president, problems began to arise, "…there's no process to determine who would serve as ICC chair before a (permanent) chair is elected." Michaelson also pointed out that, in the past, either the ASDVC president or president's designee would lead the council temporarily, "If you have no president, he can't designate someone if he doesn't exist."
The concerns don't end there, the lack of ASDVC leadership could directly affect any of the 70+ student clubs that wish to fund their organizations.
The council receives an annual budget from ASDVC, from which student organizations and clubs can utilize to put on events, attend conferences and fund student activities. Funding requests are either approved or rejected via a vote at Inter-Club Council meetings, then ASDVC members give final approval.
Current council president, Peter Swenson, highlighted the significance of this process for students, "We reached the ICC budget for the year, and all that money goes directly to student events … every cent we give is for student activity. The students are spending it themselves, it's not the administration deciding it."
"ICC passed a resolution that was a recommendation to the election committee to rescind the nullification because of the consequences it would have to student activities," Swenson said. The resolution passed during the council's April 26 meeting in a nearly unanimous 37-1 vote.
Michaelson agreed that the best case scenario would be for the committee to rescind their nullification, "Ideally, that happens either through the elections committee or some other means by the administration of the school."
Michaelson believes that even an incomplete ASDVC board would be enough to improve the situation, "If we had bare bones executives, it's better than no executives at all … five members is enough, it's almost half, and it's enough for the key positions to approve funding."
During the final Inter-Club Council meeting of the semester, advisor Todd Farr spoke to the club representatives, "We have a lot of leaders in this room, and we're going to need you to step up because we need people in those seats up there," gesturing to the seats where Swenson and other executives sat.
Farr continued, "(New leaders) are going to help you all with behind the scenes stuff to make things happen, to make sure that ICC is stronger than ever, and so that you guys can do as many activities as you possibly can and spend all your budget."
Swenson's term as the council's president ends on June 1st and reflects on what has come to pass, "It's really disheartening… there's 70 active clubs on campus, which is a lot. I hope that continues and grows … I'm going to do what I can to make sure there's ICC next semester."
About the Writer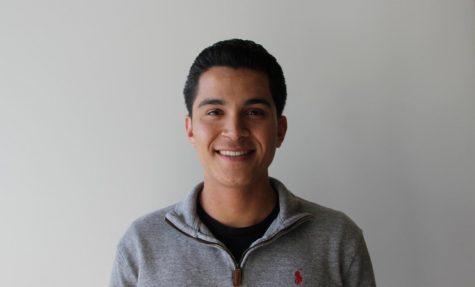 Tyler Skolnick, Staff member
Staff member, spring 2018.