Indonesian Culture in Full Swing at Festival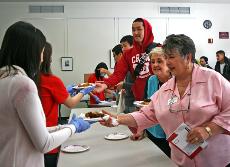 Indonesian pop music, traditional dancing, martial arts performances and free food drew students to the student union plaza Oct. 15 for an event sponsored by Indo DVC, a club active on campus for the past 10 years.
Indonesian Day was a way to bring Indonesian culture to the student body and raise awareness of the club's existence, said Elizabeth Elizabeth, ICC representative and coordinator of the event.
"We are really proud of this event because we are bringing diversity onto campus," Elizabeth said.
It began at 10 a.m. with a club member singing both the U.S. and Indonesian national anthems and continued until 3 p.m.
To help other students identify with Indonesian culture, both English and Indonesian was spoken during the event, Elizabeth said.
The Djojonegoro, a band consisting of five club members, performed an Indonesian pop song, titled "I'll Fly," in a combination of Indonesian and English. The band also performed the Alicia Keys song, "No One," multiple times.
"I thought it was pretty amazing," said third-semester student Nikki Rao. "It sounded just like Alicia Keys, even better than the original."
Indo DVC club members also put on a fashion show with colorful traditional Indonesian clothing and performed a popular aerobic dance, "poco poco."
To increase student participation, an interactive game, "kelereng," was played in which students were asked to balance a marble on a spoon, which they then held in their mouths while walking.
For most students, the biggest hits were the free food and martial arts performances, club member Marcella Giovanni said.
The club hired Rocky Twitchell, a professional martial artist, to perform the Indonesian martial arts style, "pencak silat."
Twitchell said it involves both ground and stand-up work, describing it as a "rare, eclectic martial art that no one knows about."
Later in the day, nine club members, who had practiced the complicated form of martial arts for the past six weeks, gave a second pencak silat performance
The free traditional Indonesian food was another big draw for students who were served a fried noodle dish (mie tek-tek), grilled chicken (ayam kalasan), beef (rendang), as well as white rice and a salad (lalapan) club president Jessica Tosin said.
"I think it's wonderful that we have students sharing their culture with us," said director of admissions and records Ilena Dorn who attended the event. "And what better way than [with] food."
A few Indo DVC members went home to various cities in Indonesia last summer and brought back with them clothing, jewelry, decorative animals carved from wood and snack food that were then sold at the event.
The club financed the event with these sales, as well as money given to them from the Inter Club Council and the Associated Students of DVC.
Indo DVC, which has 160 members, acts as a social network and support system for foreign exchange students from all over Indonesia.
Elizabeth came to the U.S. as a foreign exchange student after graduating from high school in Surabaya, a city in Indonesia, where she grew up.
"When I first came to America it was hard to keep up with the culture," Elizabeth said. "By joining this club I met people facing the same difficulties."
Although the club is currently made up of only Indonesian students, all students are encouraged to join.
"That's why we're having this event," she said.