Committee provides recycling bins for campus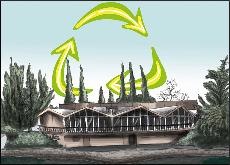 Just like its official color, DVC can now truly be called a green campus.
The college's sustainability committee has instituted a new recycling program that includes small, blue recycling bins in every faculty office and larger, rolling bins in front of every building, in some hallways and scattered across the campus.
In the past, DVC had only a few recycling bins in the Quad and in front of the student Union, as well as a small number of brown, rolling bins that volunteer faculty members brought to the curb and back once a week.
Glenn Appell, the sustainability committee's faculty advocate, estimates there are now 100 larger bins throughout the campus, as well as 300 smaller bins for the faculty offices, all provided by Allied Waste at no cost to the college.
Although the sustainability committee was organized a number of years ago, it has only recently made real strides. Appell attributes this to the hard work of the committee and the support of the new administration.
In the past, the committee faced resistance from then college President Mark Edelstein, who left in 2006.
"He didn't care much about recycling or sustainability," Appell said. "Judy Walters is a much more visionary and hipper president."
Changing DVC's recycling practices will make a big difference in the amount of waste the college produces because "50 percent of the waste stream at a college campus is recyclable paper," Appell said.
The minimal recycling that previously took place only addressed the issue of cans and bottles, which according to Appell makes up only 2 percent of waste.
"They're more visible, but make less of an impact," he said.
Part of the committee's success was in institutionalizing the recycling program.
While recycling once relied on a small group of volunteers, there is now an organized network to ensure the recycling is properly taken care of, said Chris Leivas, vice president of finance and administration, who oversees the administrative part of the sustainability committee.
Now, DVC's buildings and grounds department manages all of the recycling that occurs outdoors, while the custodial staff empties the small bins inside the faculty offices, said Guy Grace, buildings and grounds manager.
To ensure participation, one of the committee's goals was to make recycling easy for students, faculty, and staff, Grace said.
"You have to make it convenient for the student or they just won't do it," he said.
In addition to picking up the recycling, Allied Waste sorts it as well, which takes a lot of the burden off of DVC.
Grace said he hopes to expand the program to include an attractive recycling bin next to every trashcan on campus.
The college also recycles water for irrigation, uses mulching mowers that reuse the grass clippings to improve the soil, and has solar panels in place in one of the parking lots.