ASDVC holds their first meeting of 2019
The Associated Students of Diablo Valley held their first meeting on Feb.12, where executive members announced a schedule for their internal committees. The meeting began with a roll call of the board members, with an adoption of their agenda for the day. Each ASDVC executive member made a report, announcing the meeting times for each individual committee. This time was used for board members to inform their peers about relevant campus events, and to report any pertinent committee progress or upcoming proceedings. Afterwards, the president of ASDVC, Timotius Vincent, began the action items of the day.
DGC Recommendation Require Parking Permits 24 hours per day
ASDVC discussed parking enforcement and its impact on students. The focus pertained to what the action entails and how it is different from the current policy, which according to DVC's website states, "all parking requires a parking decal or a daily permit, which must be displayed on the student's vehicle. Parking permits are required at 6 a.m. through 11 p.m. Monday through Thursday, and 6 a.m. through 5 p.m. on Friday," as the site continued to address how, "students may park only in student parking lots. Parking is available on a first-come, first-served basis, and having a permit does not guarantee that a student will find a parking space." The District Governance Council (DGC) however, wants to change the policy by requiring a parking permit 24-hours, seven days a week.
Many of the board members opposed this new policy. Their stance related to the new enforcement being a direct cause for decreased attendance after school events, such as sports games, drama performances, art events and music concerts. The student board revealed that this change would not increase the money DVC makes, claiming that it appears to be an unnecessary policy. The student board is also aware of many individuals who attended DVC, but are homeless and living in their cars. If this new policy were to happen, those students would now need to pay for a pass every day, causing them to have to find somewhere else to sleep instead of the DVC campus, which is remotely safer than neighboring parking-lots. The environmental affairs officer Gerardo De La Torre, mentioned that the policy could help with less theft around the area, because it would require 24-hour enforcement. President Vincent concluded the topic with a vote, unanimously approving two members to attend a DGC meeting and oppose the policy change.
College Council Proposed Draft for DVC Mission Statement
The ASDVC student board welcomed Laurie Lema, who presented and discussed the proposed DVC Mission statement. Lema said that the college councils' goal was to make a statement that is visionary and concrete. The Senate did approve of the statement, but it needed approval from ASDVC. The mission statement said, "we inspire, educate and empower students to transform their lives and their communities. We guide students to achieve their goals by awarding degrees and certificates, preparing them to transfer to four-year colleges and universities, facilitating entrance to and advancement in careers and foster personal growth." A point brought up was that the cost of living in the Bay Area should be added, considering how expensive it is to survive in California. In response, inter-club council chair Yuvia Mendoza said, "we are focusing a lot on money when we should be focusing more on the philosophical ideas more." After a discussion on the matter, the student board voted–the results being, 26-6 with 26 votes approving and 6 votes opposing the current mission statement, for preferred additions to the document itself. The result ended in upholding the original mission statement.
ASDVC Petition Appeals
The ASDVC student board listened to seven student petition appeals made by the public, regarding packets that were denied. Each student was denied by the board their first time, because they had a class conflict during the time ASDVC meetings would take place. All seven students created a solution with their professors, allowing them to leave class for meetings. Six students were approved as new members of the ASDVC student board, and one was denied until a professor confirmed with a written note that they could leave class to attend board meetings.
Discussion Item: Parliamentary Procedures
ASDVC welcomed keynote speakers Tamara Dunning and Lorenzo Cuesta who came to teach and help the students understand parliamentary procedures. Lorenzo Cuesta told the student how the procedure should be running, "with confidence" and "dignity". Tamara Dunning finished the discussion, presenting them with an understanding of why parliamentary procedures are important.
About the Contributor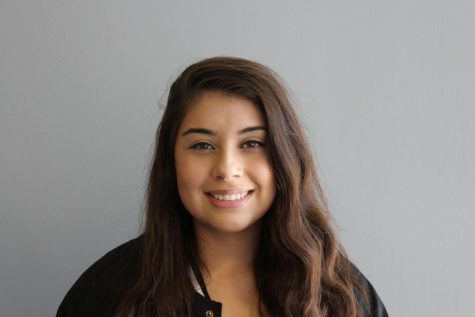 Isabel Villalobos, Senior Staff member
Staff member, fall 2018.

Senior staff member, spring 2019.