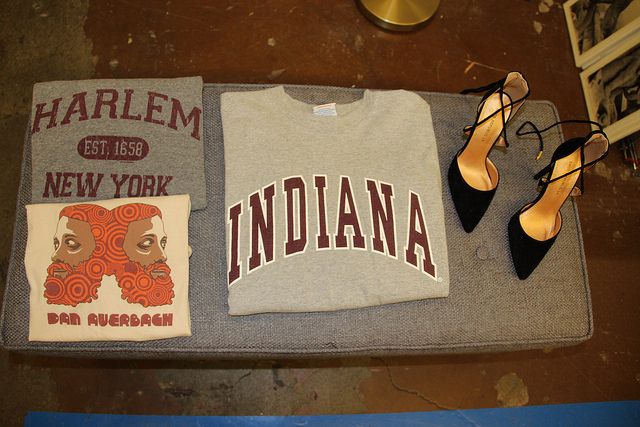 College students are broke so we thrift
September 29, 2016
Summer is officially over, but people don't seem to be too sad. Retro trends are making their debut back into fashion and we've got a lot to choose from.
Fall 2016 fashion is being described as sporty, edgy, punk and loose yet fitted.
Athletic brands like Puma, Adidas, Nike and Champion are back in style and we've got several trend setting celebrities to base our outfits off of.
You might convince yourself that you can, but let's be real, you can't afford to buy name brands like YEEZY Season or Fenty x Puma.
But it's still hard to accept the fact that Kanye and Rihanna are selling standard, yet tasteful, tees and sweaters for more than $50; their cheapest items start at $350.
Inquirer Staff member, Mirna Aboukhalil, and Opinions Editor, Dominique Smith, ventured out to second hand stores in the East Bay to find cheaper alternatives of this season's hottest trends.
Goodwill, Pleasant Hill
Goodwill is a goldmine of this seasons trends. Punk styled graphic tees are very big right now and present throughout the store. You can also find many of the retro brand tee shirts such as Adidas and Puma. There's a large shoe collection for both men and women consisting of, men's combat boots, sneakers and loafers, and women's platform heels, over the knee boots and clogs, that will make you think GOALS. Be sure to check Facebook for sales.
Salvation Army, Pleasant Hill
In most clothing stores the men's section is scarce, but surprisingly Salvation Army has a wider selection of men's attire than women's. The over-sized sweater and distressed denim look made a prominent appearance throughout the place. A sporty windbreaker look and many cashmere styled cardigans can also be found. Several calf length snakeskin boots and heels were also available, albeit on the small side-in the 6 to 7.5 range. 
Savers, Dublin
If you've ever walked into a superstore, like Costco, and dreamed of there being a thrift store just as big, Savers is your paradise. It's definitely the place to go if you have a couple of hours to kill. The store is about twice as big as a Forever 21 and it has many bold fashion statements. Since October is right around the corner you can find reasonably priced wigs, props, and full costumes.
Out of the Closet, Oakland
This store is a bit smaller, but has more authentic vintage garb. The clothing might have been a bit out there, but it did have a nice selection of books to snuggle up too. Some of the profits go towards free testing for HIV and STD's.
Most of us stay glued to social media, and high fashion is constantly in our face, it can be really hard not to give in and buy over priced clothing. But it's time we take advantage of the affordable alternatives.
College students are broke so we thrift