Exhibition Shows Human 'Cost of War'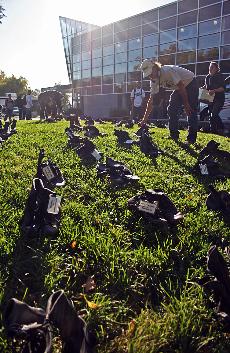 Neatly organized lines of worn black combat boots covered the grassy knolls of the Main Quad Oct. 21 in memory of the thousands of men and women who have died in the Iraq War.
The boots were part of three anti-war memorial exhibitions brought to DVC by the American Friends Service Committee, a national non-profit Quaker organization. Each exhibition – "Eyes Wide Open," "The Cost of War" and "The War Within" – has a different message about the war's impact.
AFSC was contacted about bringing the exhibitions, which travel around the country, to DVC by Students for a Democratic Society, a group that is in the process of becoming a club on campus, said SDS member Bryan R. [who asked to have his last name withheld].
The "Eyes Wide Open" exhibition is made up of 444 pairs of black combat boots, each representing a service men or women from California who has died in the war, so far. A laminated tag with the soldier's name, age, rank and home town is attached to each pair.
The exhibit also includes pairs of everyday shoes that represent Iraqi civilians who have lost their lives as a result of the invasion.
"What we are hoping is that people will reflect on the human cost of war," said Mary Ellen Solon, AFSC emergency and material assistance program associate.
Math major Cyrous Ahmadieh said the civilian shoes affected him more than the rest of the exhibition because, "it was mostly children."
AFSC began touring the country with this exhibition in 2003. At first, the organization brought enough boots to represent every soldier who had died in the war, "but when the death list became too high we had to break it up into small state exhibitions," Solon said.
DVC hosted the exhibitions in 2006, at which time it consisted of 261 pairs of boots, 183 fewer than today.
Student Jake Rushing, 19, said that he came across a pair of boots representing someone he knew who had died in the war.
"It feels like walking through the graveyard for soldiers who have passed," he said.
The second exhibition, "The War Within: The Veteran Suicide Epidemic," consists of a single pair of combat boots painted white. The boots memorialize those service men and women who have committed suicide.
The suicide rate for veterans is between 22.9 and 31.9 percent per 100,000, while the rate for non-veterans is 8.3 percent per 100,000, according to literature provided by AFSC.
Bryan R. of SDS said his group wanted to bring the exhibitions to DVC so students would take "at least one day out of their routine to absorb the amount of casualties."
"These are the casualties of the decisions they have or have not made," he said. "By voting for Bush or not voting at all."
Large signs reading: "One Day of the Iraq War = 720 Million Dollars, How would you spend it?" and, "One Day of the Iraq War = 34,904 Four-Year Scholarships for University Students," surrounded the quad as part of "The Cost of War" exhibition.
"We're asking people to think about how money could be used, if it was funneled away from the Iraq War and into social policy, health care, and things of that nature," AFSC's Solon said.
"It's a great way to honor people who have fought for this country," third-semester student Alice Lei said while walking around the exhibitions.
Lei said she was surprised that so many of the boots represented people under age 40.
"The youngest I've seen [is] 18," she said. "It's sad because they didn't get to live out their whole lives."
While many students seemed to appreciate the exhibit, some veterans on campus said the "Eyes Wide Open" memorial was disrespectful and an attempt to make a political statement.
"To say it was a memorial is to run counter to my definition of a memorial of a dead soldier," said Ryan Berg, president of the Veterans Club.
A military memorial includes the soldier's shined boots, weapons and helmet. "When we memorialize someone we do it with the utmost respect," he said.
Niccola Devereaux, who works in Career and Employment Services as a veteran's ambassador, called it "a cheap shot."
"They were using shock to get their message across," he said, "and it was disrespectful to the 170 veterans on campus."
AFSC peace education coordinator Sandra Schwartz said she spoke with many veterans on campus who were angry about the exhibit.
After explaining that the exhibit tries to show the public the human cost of war, many veterans "would stop and say 'you are right,'" Schwartz said.
"To tie a name to a boot is to almost look at the boot and say, 'Well Eric Smith is definitely against the war and wants the war to stop," Berg said. "That's using his voice as a kind of a loud speaker."
Berg and Devereaux, both of whom spent time in Iraq, said they do not agree with the Iraq War.
"I didn't see the Iraqis as being the enemy," Devereaux said. "I don't understand why we are there."