East Bay is just a 'hike' in the park
The great outdoors, it's a pretty scary place. There's grizzly bears, wolves, and … oh wait, they're all extinct in California … so I guess it's not that scary anymore … maybe it's time to crawl out of the dark hole you've been living in, go outside and walk around a little bit.
But where should you go?
Well here's a list of five great hikes in the East Bay that will get you started.
Castle Rock to top of Mt. Diablo via Barbecue terrace:
This hike is on the longer side, and has about 4000 ft. of elevation gain, so set aside a good portion of your day. From Castle Rock in Walnut Creek to the top of Mt. Diablo, it's 7.7 miles. Unless you have a car waiting for you at the top of the mountain, then double that number.
The hike may seem a bit arduous, but in terms of the terrain you'll see and the nature you'll witness, as far as the East Bay goes, the hike is second to none. With the right timing (spring) fields of California poppies riddle the landscape, as the rolling foothills gently expose a new environment over each peak and valley.
Bring a picnic, lots of water, and sunscreen for maximum enjoyment.
Twin Canyon (Girl Scout Lafayette):
This hidden gem is tucked away down a long country road that leads to a girl scout camp (hence the name). Technically part of Briones Regional Park, the hiking at Twin Canyon can be made as difficult as you please. Off of Pleasant Hill Rd. turn onto Springhill Rd., then continue going down Springhill Rd., keep going even after your hiking buddy says, "I think we've gone too far."
Twin Canyon has two obvious hikes, up and down, up being quite strenuous and down being a quaint loop in a dense oak forest. The awesome thing about Twin Canyon, is if you can find them, there's a lot of hidden trails that you won't see anyone else on. You'll have to find them yourself though, because I'm not telling.
Redwood Regional Park (Canyon trail head):
Didn't believe the East Bay had awesome Redwoods? Well guess again! Because Canyon is full of them. To get to Canyon, simply type in "Canyon California" into your Google search bar, once you've done that, go there!
What's nice about Canyon, opposed to the Muir Woods, is that Canyon has been relatively untouched and doesn't see nearly as many tourists, but still has giant Redwoods; without all the added noise, and walk ways that has ruined the Muir Woods.
Take any trail, and let your imagination take over. Maybe you'll see an Ewok or two.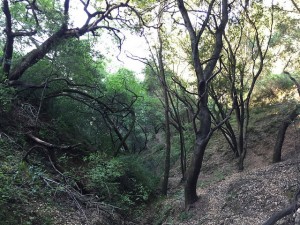 Briones Regional Park:
Located only five miles away from Diablo Valley College, Briones is a 6,255 acre park that has many different entrances. The entrance down Reliez Valley Rd., being the best.
Once parked at the car park, take any trail. They all lead to the same place. About a half-mile down, all the trails will converge to make one large trail. Shortly after this, there will be an area that splits into three different directions. You'll be able to recognize this area also because of a creepy rope dangling from a tall oak tree. The trail that goes off toward an ominous dark valley, take that trail.
The trail is technically a dried up river bed, so it's only accessible during late spring and summer months. The entrance, an arched over oak-tree, hides the magical fern and vine infested valley that will probably change your life. Wander around, explore different trails that lead no where, and have the time of your life getting lost in somewhere almost sacred in beauty.
Lafayette Reservoir Back-country:
As you're reading this, your mom probably just got back home from her weekly hike around Lafayette Reservoir. As usual, she's complaining about the grueling three miles of paved cement that she thinks, "Is giving her shin splints."
Well, Lafayette Reservoir Back-country isn't your mom's hike. It's five miles that feel more like 10, as they slope up and down, following the rim of hills that encircle the reservoir. There are some stunning views of the East Bay at the top of each peak.
The trail can take up to three hours, so pack water and a snack.
The East Bay has hundreds of other great hikes, but just remember, if your feet never leave pavement it's not a real hike.