Migos wants to be in upcoming Lion King movie
Hang on for a minute...we're trying to find some more stories you might like.
Rap music's favorite trio Migos wants to join the cast of Disney's upcoming live action remake of "The Lion King."
"The Lion King" was originally released as an animated film in 1994. It was met with critical acclaim, won two Oscar Awards and is a staple in Disney's collection of animated films. The original cast included Matthew Broderick as Simba, Rowan Atkinson as Zazu, Whoopi Goldberg as Shenzi and James Earl Jones as the voice of Mufasa.
The live action remake is slated to release in 2019 and has already built up a fair amount of interest due to the star-studded cast. Donald Glover (known in the music world as Childish Gambino) will be voicing Simba, Billy Eichner as Timon, Keegan-Michael Key as Kamari, John Oliver as Zazu, Eric Andre as Azizi, Seth Rogen as Pumbaa, Beyonce Knowles as Nala and James Earl Jones returning to voice Mufasa.
The idea of the Atlanta trio made up of Quavo, Offset and Takeoff as the hyenas was originally made up by a string of fans making gifs of the trio's heads edited on the three characters from the 1994 animated film. Eventually, the tweets began to compile and attracted the attention of the band.
Perry Overton (@PerryOverton552) said, "I love Migos but they can't even give good interviews. How we gonna expect them to act goofy and stuff. They'd ruin the whole show."
"The idea of it is funny, but overall it wouldn't be fit for the movie," said UCSB Film and Media Studies major Ciara Anies. "There's already a certain talent level with the rest of the cast. Everyone in that cast has powerful voices, if you have Migos in there it would lessen the quality of the movie a little… It's an idea that should be left on Twitter."
But Quavo thinks otherwise, posting about the idea on Twitter.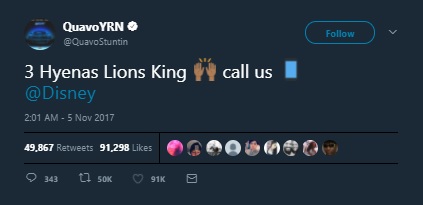 "I would most definitely be more likely to see "The Lion King" if it had Migos, no doubt" said DVC music industry studies major Ishmael Harris. "I'm not entirely sure if they'll do the roles justice compared to the first one because I haven't seen the first one."
"As for the way I feel about Migos, they're really influential with their sound. A lot of gas in the tank there," Harris said.
If the group could land these roles, it could open up new opportunities for the trio if they ever wanted to seriously pursue something other than music. For example, when O'Shea "Ice Cube" Jackson crossed over into writing and acting after N.W.A. and his own solo work, he wrote the screenplay for the film "Friday" with DJ Pooh. It showed that Jackson could be taken seriously in writing, producing and acting in film.
Stay updated on the DVC Inquirer to see if Migos make it on to Disney's Lion King cast in 2019. Until then, you can revisit Culture and their latest single "Motor Sport" featuring Nicki Minaj and Cardi-B now streaming on Spotify, Apple Music and SoundCloud.

About the Writer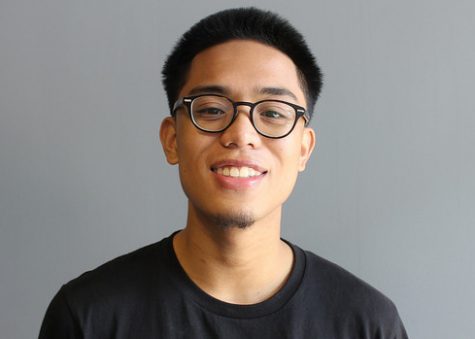 Matthew Asilo, Staff member