The Ventura Shooting: what the public knows
Hang on for a minute...we're trying to find some more stories you might like.
Late in the evening this past Wednesday, a gunman walked into the Thousand Oaks bar in Ventura, slaying 13 individuals and wounding 18 others, one of the fatalities being a sheriffs sergeant. The assailant was identified as 28-year-old Ian David Long, a former U.S. Marine machine gunner. So far, police have not stated as to what the shooter's motive was.
As attendees of the Borderline Bar and Grill enjoyed the evening, two of which were women celebrating their 21st birthdays, smoke poured into the room and bullets rang out, causing patrons to scramble for their lives around 11:20 p.m. According to authorities, Long used a Glock 21 .45-caliber handgun and reportedly threw smoke bombs in the bar, adding more pandemonium to an already horrific incident.
These are the victims who have been identified and their stories. #ThousandOaksShooting #BorderlineShooting https://t.co/2q8QbrdW9i

— Ventura County Star (@vcstar) November 8, 2018
Ventura County Sheriff Geoff Dean said that after the shooting had stopped, Long was found dead in a back room in the bar. Dean told the Los Angeles Times that the amount of blood within the vicinity made it difficult to determine whether Long killed himself or was shot to death by police.
The shooting in Ventura country also marks the 307th shooting to occur in the United States in 2018 alone, according to USA Today.
The Los Angeles Times also reported that several of the survivors at the bar were also survivors of the shooting in Las Vegas last year.
Of those slain, Ventura Sheriffs Sgt. Ron Helus was one of the first officers to arrive after initial reports of gunfire. Helus was a 29-year veteran of the department, with plans to retire in several years. On his way to the bar, Helus was talking on the phone with his wife, his last words to her as obtained by the Los Angeles Times were "Hon, I got to go, I love you. I gotta go on a call."
As soon as Helus entered the bar, he was immediately struck with multiple bullets. An unnamed California Highway Patrol officer dragged Helus's body away from the ensuing shootout, where he was taken to a nearby hospital. Helus died from his injuries early Thursday morning, leaving behind a wife and son.
.@VENTURASHERIFF Sgt. Ron Helus represents the heroism that lies within all our nation's law enforcement officers who are ready to lay down their lives so that we may live safely in our communities. #VenturaShooting pic.twitter.com/k6SRp5hQoA

— National Sheriffs' Association (@NationalSheriff) November 8, 2018
"Thousand Oaks is one of the safest communities in the United States," Capt. Garo Kuredjian of the Ventura County Sheriff's Department told the Los Angeles Times. "For something like that to hit us on our doorstep is devastating."
The established hotline for those seeking information on loved ones is (805) 465-6650, with a reunification center set up at the Thousand Oaks Teen Center.
About the Contributors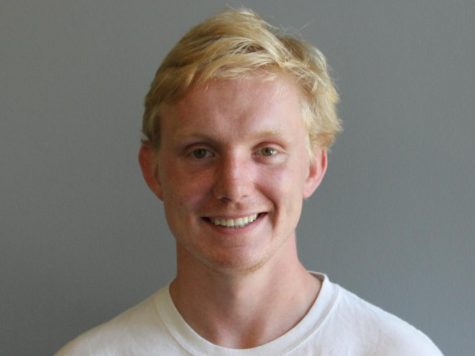 Gavin Rock, Sports editor
Staff member, fall 2018.

Sports editor, spring 2019.