Vikings stay strong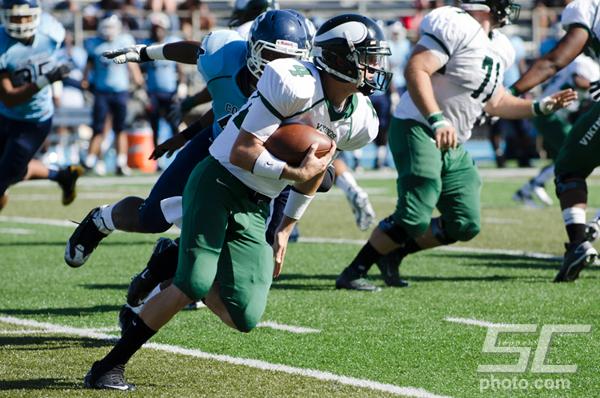 It wasn't pretty, and the Vikings had to use all three of their quarterbacks, but DVC came away with a 31-26 win over Contra Costa College on Saturday.
"They tell me to always be ready," back-up quarterback Quinn Kaehler said. "I just wanted to come in and do my job."
After starting quarterback Spencer Van Brunt was pulled midway through the second quarter, Kaehler came into the game with DVC trailing 13-7.
He made quick work of the Comets defense throwing a 57 yard touchdown pass to Cameron Rowland on his second drive to tie the score.
It was Rowland's first catch of his college career. He said he was, "really nervous. We've been working all summer together, I came in a little late but it's good to be on the same page with the quarterbacks."
Kaehler threw one interception but was aided by running backs CJ Best, Vince Ferrante, and Dozie Iwaugwu who each had a rushing touchdown.
Andre' Lewis had two beautiful catches to set up these scoring runs.
At halftime, DVC led 19-13 and offensive line coach David Garcia said, "We need to hang onto the ball in the second half. The penalties are killing us."
On DVC's first drive of the second half, after missing two extra points, DVC chose to go for it on fourth down.
They had a turnover on downs, but didn't give up another for the rest of the game, leading to two touchdowns.
The defense was the story once again though, holding Contra Costa to 45 rushing yards while accumulating five sacks, including Morgan Breslin's game ending sack.
The defense forced Contra Costa to punt on ten of their 14 possessions, and gave up only 13 points in the first half and only six points in the second. CCC scored another touchdown on a botched snap during a punt attempt.
Head Coach Mike Darr said of the game, "Unfortunately we made some mistakes early, made the game much closer than it should have been. Our guys showed a lot of character, coming back from early adversity, on the road…"
DVC has now won their two games by a combined score of 73-26.
The team is off to a fast start and will have teams gunning for them the rest of the season.
They will know this heading into Sierra College this Saturday.