Former art student featured in library
Diablo Valley College art classes literally inspired a student to become a professional artist.
Local multi-media painter and former DVC student Walter Crew, 73, is responsible for the artwork displayed in the library art gallery. "It's therapy, better than taking pills, it's something to wake up for. Otherwise I'd be sitting in a rocking chair, and that's just not for me," said Crew.
Throughout the library, Crew presents 79 various paintings of birds, abstract landscapes, and his favorite, indigenous African mammals.
He admires the beauty of Africa, both the people and the animals, although he has never traveled there.
"Cheetah's Watch #2" is one of Crew's oil paintings which depicts three cheetahs resting on a large rock while observing the African savanna. Each perfectly illustrated and positioned. The backdrops landscape mimics the African savanna precisely, which Crew accurately details, from the reflection of the savanna trees on the water bank, to the realistically painted grass surrounding the bedrock.
Crew finds it helpful to travel to zoo's and parks such as Heather Farms in Walnut Creek, where he can capture images of mammals and birds in person. He also finds inspiration for his paintings from watching wildlife documentaries on the television.
Crew guesses that he must have over 600 paintings, using a variety of art tools to compose the final piece, including oils, acrylics, pastels, scratch board, photography, and Photoshop. Editing software like Adobe Photoshop allows Crew to create abstract compositions for many of the backdrops in his paintings.
At times using YouTube tutorials to help guide him through unfamiliar mediums, he finds great pleasure in trying new techniques and styles. "I am not afraid to make a mistake. I learn from fixing my mistakes," said Crew.
Over 15 years ago, Crew began taking classes like Machine shop, Photoshop, Digital Photography, and about every single painting class offered at DVC. Furthering his education at Mount Diablo Adult Education, where he received his certificate in Fine Art.
Crew is currently an active member of the Valley Art Gallery in Walnut Creek, and is also a part of three artist groups, East Bay Artists Guild, CC-14, and Las Juntas Artists.
"If I could give any advice it would be…It's only a piece of paper, don't be afraid of it, make more mistakes," said Crew.
The "Rewind" exhibit has been displayed in the DVC library since November 30 and will be up for public viewing until Feb. 6.
About the Contributor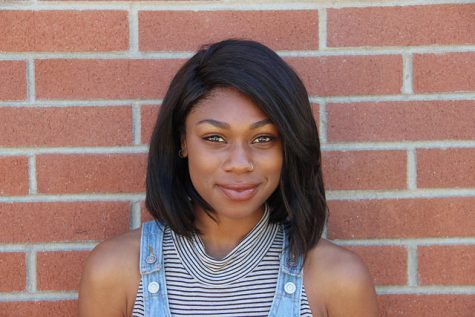 Dominique Smith, Editor
Opinions editor, fall 2016. Staff member, spring 2016.