Local hero retires from helping homeless
When most of us think about heroes, we generally associate it with capes, spandex, and the ability to fly.
Here in Contra Costa County there is a man that is a true hero. Doug Stewart founder of the Contra Costa Homeless Outreach. I met up with Stewart a few nights ago to tag along as he went through his nightly routines.
"It can get pretty crazy out here," Stewart said, "Some of these people can be unpredictable and you never know what you might walk into."
But for almost 7 days a week for the past 12 years Stewart has gone out to take that risk.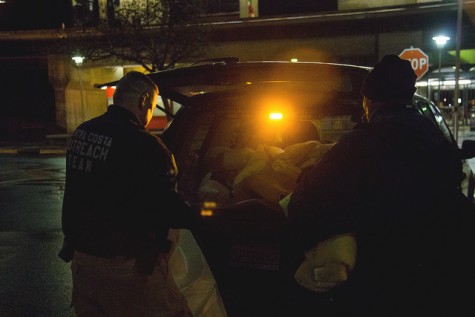 This all began 12 years ago. At the time Stewart was a Municipal Advisory Council member, where he attended meeting after meeting and hearing the problem with homelessness brought up over and over again. Finally Stewart took it upon himself to go out and ask the homeless what they actually needed for help, thus the CCHO was born, and rain or shine Stewart would be out in the street, helping those in need.
And this evening was no exception, rain pounded hard onto Stewart's SUV, which was stuffed to the brim with blankets, tarps, zip lock bags filled with food and warm socks.
"I get calls from police agencies, but also citizens," Stewart said as we headed to Concord to respond to a call made from a private citizen about a woman in distress.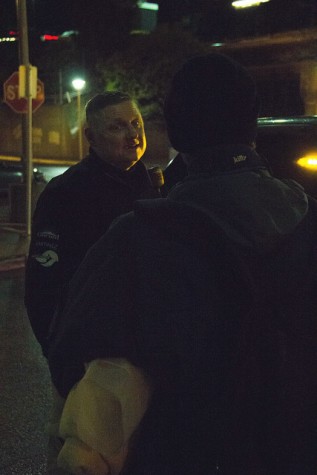 As we pulled into the Concord Bart station, Stewart met with a homeless man who had called him earlier. After giving out a some food and blankets, Stewart asked the man how he had been doing, and checked in on his overall well being. After a small conversation and a big thank you from the man, Stewart and I were back on the road. Next stop the Concord shelter to find a bed for another homeless man.
"People think what I do is easy, hand out socks, give out food, but it's much more than that," said Stewart.
And he is far from wrong. As he showed me the folder filled with paper work, only from January, that he had to fill out each time he obtained a bed for someone.
With a quick stop in Martinez to gather more supplies, Stewart drove us out to North Richmond where he knew some camps and people might be in danger due to the violent rain that evening.
As we pulled up to the railroad tracks along an industrial strip, we exited the car and hiked down to the water run off tunnels underneath the train tracks.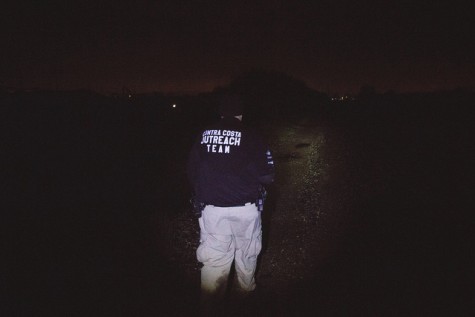 "I can usually drive down this whole strip but not in weather like this," Stewart said as we walked along the tracks. He pointed his flashlight down to the run off tunnel, "this is where there is a lot of camps, and you can usually walk down there, but you see that water, its a death sentence for anyone camping down there."
It wasn't long before we stumbled upon a couple of homeless women who were glad to see Stewart. He provided them with tarp, strong enough to with stand the rain and some food. Stewart was on a first name bases with everyone and they all instantly knew who he was when he arrived in the area.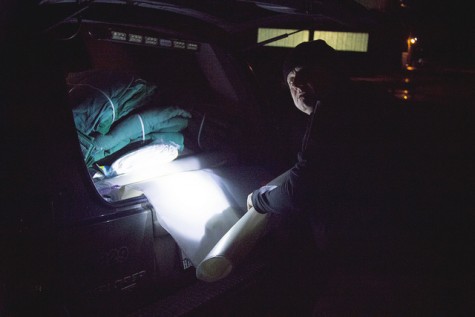 We walked farther down the tracks to another small camp and a make shift home that had been built, the man inside wouldn't come out because he was surrounded by water on the inside. Stewart was still able to leave him some supplies and also his business card, which he made sure to hand out or leave at every site he visited.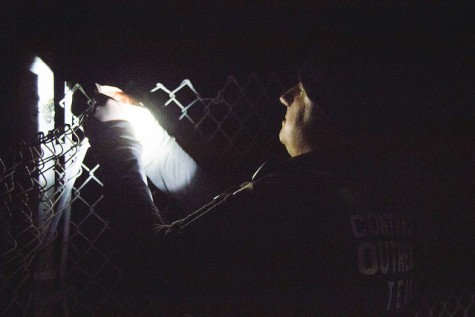 Through all of this Stewart  never stops showing his gratitude for the small things as he sloshed through mud up to his knees Stewart said, "I get to go home and take off these boots and put my feet next to the heater, but they (the homeless) don't. It makes you think."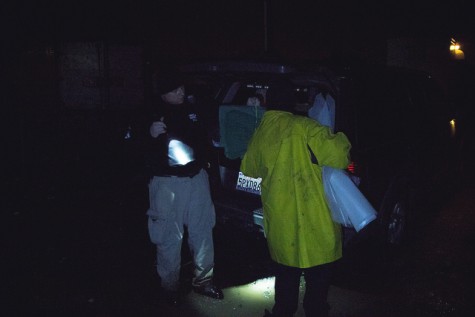 Before calling it a night Stewart stopped at the Richmond shelter and was able to guarantee another man a bed.
But these long nights will soon be coming to a close for Stewart as he will be retiring at the end of June, which may mean the end of the CCHO. With 12 years of nonstop work, Stewart deserves a break. When I asked him if he might continue this work when he and his family relocate to Arizona, Stewart responded, "If I do, it wont be for a while. I want to spend sometime with my family, I want to relax."
Although we parted ways at 3 a.m., Stewart's night was far from over.
Stewart has put the needs of others ahead of himself and his family every night. He deserves much more gratitude than I can bring forth in this article. There are many people in the East Bay that owe their lives and well being to this man and his team. With his resignation Doug Stewart leaves behind some big shoes to fill if the county wants to continue the CCHO.