Teeth Cleanings now available at DVC
The Dental Programs Teaching Clinic is now offering teeth cleanings at Diablo Valley College (DVC) located in the Life and Health Science building on the Pleasant Hill campus.
The clinic is reaching out to those who are in need of a cleaning after two or more years of not having this amenity. They offer this service to students that attend DVC and everyone of all ages from the community. The appointments are directed by clinically trained students that are a part of the dental hygiene and assistance programs with the support of their licensed professors.  
"Usually we have to recruit our own patients," said Yvonna Lombardo, one the program's dentistry students. "We want to promote oral health for everyone who needs it."
The clinic offers low price services for anyone that may not be able to afford the price of going to a local dentist office, which can generally cost about $75 to $200 for both a cleaning and an X-Ray.
The criteria for being a patient is to be willing to give time for students to perform the cleaning and to be evaluated by their licensed professor. Any cancellations to appointments will result in the student dentist losing points for the appointment, so the clinic asks patients to schedule accordingly if they are interested in making an appointment. If the patient has any certain medical health conditions that may interfere with the examination and cleaning, the patient must require a written statement from their current physician to make an appointment at the clinic.
Each patient must make their first appointment for an Initial Evaluation, so the instructor and student can review the patient's medical history to complete a limited oral exam. The Initial Evaluation is free to DVC students, while non-students pay a $5 fee. During the first appointment, the dental clinic asks to allow up to an hour and a half for this appointment to record and file new patients.
Once the evaluation is completed, the patient can make an appointment for teeth cleaning. The teeth cleaning is a cost of $25 for adults and $10 for children. The teeth cleaning appointment asks that you allow three to four hours of time to take place, so a student with their licensed professor can properly clean your teeth.
Depending on the patient's oral health, the clinic can recall a patient. This can help determine how often a patient should return for a follow-up appointment for another teeth cleaning, deep cleaning or X-Ray.
If the returning patient needs a deep cleaning of their teeth, that may cost from $25 to $55. If a patient needs an X-Ray, it is a price range between $5 to $10.
"Some of the funds from these appointments goes towards more supplies like paper towels and cleaning materials that we need to keep the clinic going," said Janay Wilson, a dentistry student.
The benefit to having the Dental Clinic is that it is for everyone, not only does it help the students in the dental program gain experience, but patients can walk away saving more money than going to a local practice.
"I'm working with my hands and working with people, I'm actually applying the basic essentials of science and how dentistry works is something that I am drawn to," said dentistry student Blossom L.
DVC offers a dental hygiene program for students that would want to pursue a career that varies to general dental practices, specialty practices, hospitals, nursing homes, and public health clinics. The program offers an associates degree that focuses on patient screening procedures, developing radiographs, cleanings, teaching and counseling patients on how to maintain good oral health.
"I like that this job involves a lot of problem-solving, you are looking at all the evidence that your patient presents with and you're putting together a mental puzzle of why they have those conditions," said Wilson.
This is a two-year program that completely prepares each student to take the required amount of written and clinical licensing exams. It gives each student hands-on experience with patients, applying material and using equipment that is necessary for this field or work.
The Dental Hygiene program is a highly competitive program, where it picks its students by lottery and are admitted each academic year. This program encourages students to finish their first two years of prerequisites including two summer semesters and standing at a 3.0 GPA.  
"When you pursue this career and do the prerequisites and the program, you have to stay dedicated," said Janay. "It's only four years of your life then after that you're good."
About the Contributor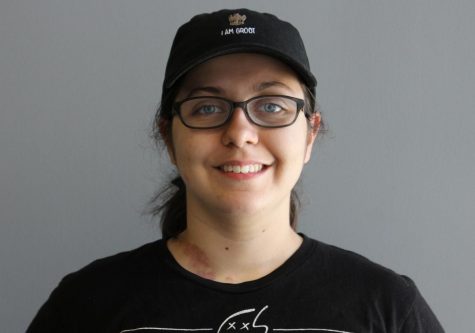 Samantha Laurey, Senior Staff member
Staff member, fall 2018.

Senior staff member, spring 2019.