Vikings' Number One Fan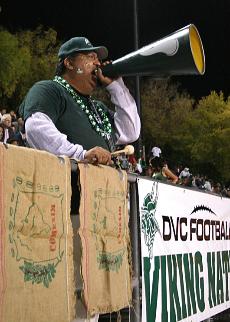 Six Viking cheerleaders dance in front of the large crowd, with high kicks, spirit fingers and pom-poms, as DVC faces off against No. 1-ranked City College of San Francisco.
But they don't come close to the guy with a drum, who screams into an old school megaphone and whips the fans into a bleacher-stomping, crank-spinning, bell-ringing frenzy.
He is Dave Garcia, with a "Go green" and a Viking tattoo on each cheek, and no fewer than three green and white mardi-gras bead necklaces, a DVC lanyard and two whistles around his neck.
Garcia is the father of two DVC football coaches, running back coach David Garcia, 27, and offensive line coach Anthony Garcia, 26.
And Garcia's love for his boys makes him the Vikings' biggest fan.
Even before the game, he works the crowd, mingling and selling bead necklaces, two for a dollar.
"Everybody got their green on?" Garcia asks one arriving group before running back to his home base, center-front of the bleachers, where his wife and youngest son sit. She restocks his bead supply, and he is off again.
"I've got all my sons here, I'm very proud of them."
Garcia is all smiles as he makes his way around the stands, greeting fans and having his picture with families of players he has met in the past two seasons.
"She saved me, she taught me how to love," Garcia says looking down the bleacher to his wife.
After the Vikings' defense makes a sack, Garcia rips a burlap sack out of one of his bags and waves it around, wildly screaming, "sack."
He tapes it up on the hand railing in front, where it will later be joined by three more.
Garcia is quite funny, especially when one sits close enough to hear what he mutters under his breath.
"There's something wrong with that No. 47, his elevator doesn't go all the way to the top," he says to himself about an opposing special team' member who cannot stand still before the kickoff.
Garcia started going to his sons' games when they played at College Park High School and then at Los Medanos College.
He was thrilled when David got into Fort Hay State University in Kansas, followed by Anthony one year later.
Garcia went to as many of his sons' games as he could, often making road trips to other states in a PT Cruiser he decked out in team colors. The car took the 1st place in a homecoming parade, a prize normally awarded to the college president.
Although this evening ends with a loss to City College of San Francisco, Garcia encourages the fans to stay cheerful.
"We're having fun, the sun will still come out tomorrow," he says. "It's all love, Vikings."
And then he pays tribute to the crowd.
"Thank you for staying, I applaud you."
Leave a Comment