Romance and music on stage with "The Fantasticks"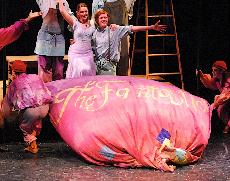 "The Fantasticks."
The very title brings to mind superheroes in bright tights and billowing capes, or perhaps a troupe of daring acrobats.
On the contrary, the characters of DVC's first play of the season are made of flesh and blood, and they harbor the same idyllic dreams that inhabit us all.
Written by Tom Jones in the midst of 1950s conformity and "good values," the originally off-Broadway musical was radical for its time.
Young people had just begun to challenge their parents' way of doing things and to question the structure of society.
Although it was only the prelude to the cultural revolution of the 1960s, DVC drama director Ken Hein calls it "one of the most fascinating periods in American history."
If this show is any indication, then it certainly was.
"The Fantasticks" embodies the conventional song-and-dance formula of a musical, and, at the same time, challenges it with its clever and original lyrics.
The story revolves around a girl (played by Kristin Reckstrand) and a boy (Blake Hosier) who are madly in love. But the conventional elements end there, and the rest is a delightful farce of the usual things we expect from a romantic drama.
From Shakespeare to modern cynicism, "The Fantasticks" leaves no cliché unexposed.
The production is a whirlwind of decadent colors and bursts of song. The liveliness of the choreography mirrors the lightheartedness of a comedy, while the soulful melodies reflect the story's introspective quality.
The cast includes unforgettable characters, like the mysterious Narrator (Harold Hardin), a decrepit thespian (played by Hein himself), and the thespian's melodramatic assistant (Daniel Rubio).
Although "The Fantasticks" successfully turns romanticism on its head, it is by no means a cynical presentation of love. (So, yes, it is Valentine's Day-appropriate!).
Instead, its aim is to impart something deeper and more meaningful, a lesson about an almost universal, emotional rite-of-passage.
Beyond the jokes about romantic ideals is a sober discussion about what can happen when that dream is actually obtained.
It was true in the '50s, and it is true to this day: Reality may not match the sublime fantasy carried in one's mind.
With only three shows remaining, don't miss this opportunity to see a great musical comedy showcasing some of the best talent the DVC theater department has to offer.
"The Fantasticks" runs through this weekend, with performances on Friday and Saturday at 8 p.m., and a 2:30 p.m. matinee on Sunday in the Performing Arts Center.
Tickets are $12 with an ASDVC sticker, $14 for students and seniors, and $15 full price. For reservations, call (925) 687- 4445. Tickets are available at the door.
Leave a Comment