Cash-for-grades Charge Nets Former Student 75-day Jail Sentence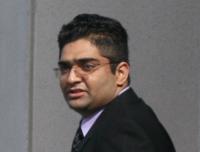 Sumair Arif was found guilty of a single misdemeanor count of conspiracy to commit computer fraud on March 19 for his part in the cash-for-grades scandal that involved students selling grades out of DVC's Admissions and Records office between 2000 and 2006.
Judge Sugiyama sentenced Arif to 75 days to be served in county jail or electronic home detention and one year court probation after the jury found him guilty of paying approximately $600 to change a grade in 2004.
Arif was credited for one day time served, bringing his sentence down to 74 days because he already served a day in county jail when he was initially arrested for his involvement in the scandal.
Arif, 25, is currently a student at Cal State Sacramento, but will miss the remainder of the semester because his sentence must be served within Contra Costa County.
"It is very likely that Mr. Arif will lose the benefit of the work that he has completed," Judge Sugiyama said during sentencing.
Deputy District Attorney Dodie Katague said Arif's standing at Cal State Sacramento will most likely be affected because he was found guilty of being part of a conspiracy to alter his transcript.
But defense attorney Tom Ogas said his client believes he will be able to return to school when his sentence is finished because he was accepted to Cal State Sacramento without using the unauthorized grade changes.
"The transcripts they received were genuine transcripts," Ogas said.
This was the 24th conviction or guilty plea the district attorney's office has obtained in the cash-for-grades scandal that dates back to 1999, with about 20 more cases pending.
On March 19, Ronald Nixon, an accused ringleader, pleaded guilty to a misdemeanor charge and agreed to help prosecutors, Katague said.
The district attorney's office is hoping Nixon will shed light on parts of the scandal that remain unknown to authorities, he said.