DVC students take home awards at Cal Poly Design Village competition
Students in DVC's Architecture and Engineering program came out on top at the Cal Poly Design Village 2013 "Make.Move.Play" competition.
Five teams from DVC, each consisting of two to six students, entered in the annual competition held at Poly Canyon Village in San Luis Obispo. Two DVC teams took home awards in two different categories at the competition.
Evan McCurdy, Jonathan Seto, Casper Cheung and Emily Grace won first place in the "Make" category for their structure "The Kite." McCurdy described that the idea came from one of their instructor's studio classes.

McCurdy, team captain of "The Kite" project, explained his structure for the competition.
"The original shape was like origami," McCurdy said. "Playing with it, we discovered we could pull it and fold it in different ways to take on different shapes. So it can either be an arch or fold down to the ground to be a dome".
Another team from DVC won second place for the "Make" award for their "Optigon" structure. A structure based off the eight pointed star, this can be seen from the roof panels, to the floor plan and all the way down to the gussets and knee braces.
The "Optigon" was created and built by Eric Mortenson, Zola Ulziisaikhan, Robin Tsang and Eric Engdahl from DVC's Architecture and Engineering department.

"The eight pointed star symbol is found all over the world, in Buddhism, Hinduism, and Christianity," Mortenson said. "Interesting enough, in all cases it represents the length between the mortal and spiritual world. We wanted it to be a spiritual experience."
DVC's Architecture and Engineering program has been expanding with an updated curriculum, multiple grants, new equipment, new computer labs and eager students wanting to learn and create.

Daniel Abbott, department chair and instructor of the architecture and engineering department, has been expanding the program and curriculum since he first started 11 years ago.

The architecture and engineering program has been expanding in more than just equipment and technology. New classes have been offered recently. Abbott explained more about whats new in the program.
"
This summer we offered a new class that uses Arduino micro-controllers for robotic design and responsive building design," Abbott said. "These are architectural models that respond to light, sound and can move".
The program has received two grants, the "Design it-Build it-Ship it" grant and the National Science Foundation grant, which have helped in expanding technology.
Two brand new updated computer labs, with new electrical and networking for both labs. The machine shop in the program is being overhauled as well. Getting up to date with new equipment and technology like mTech. The wood shop also received new equipment like it's ShopBot CNC router, which was used for some of the projects in the "Make.Move.Play." competition and new custom furniture in the computer labs.

From winning awards at a well know state wide architecture and engineering competition, to massive grants and new equipment, DVC's architecture and engineering program has reasons to be optimistic.
Cole Sicora-Friesen, a 21-year-old student who was part of one of teams sent to the competition, had some thoughts on the current architecture and engineering program.

"I have to say the
DVC architecture program keeps the traditional feeling of an architect
firm, with the drafting tables, and the professors staying hands on with
their examples when teaching a class," said Sicora-Friesen. "You always have groups of
students hovering around a drawing trying to figure out a solution. But a
new computer lab is being built now, so maybe a new working environment
could develop in the [Engineering Technology] department."
About the Writer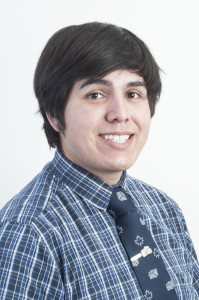 Gustavo Vasquez, Photo chief
Photo editor, spring 2014 and  fall 2013.