Search and rescue dog teams train at DVC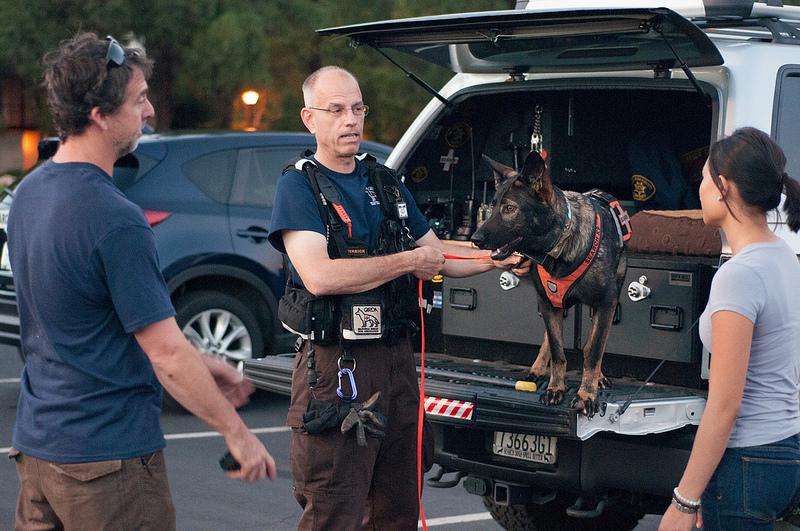 Thousands of students roam Diablo Valley College each day, making it a perfect spot for California Rescue Dog Association (CARDA) to train and put their rescue dogs' noses to the test.
CARDA rescue teams, including DVC's ceramic instructor Karl McDade, did a training exercise on Monday, Sept. 24 on DVC's Pleasant Hill campus. The exercise included using two different search dog teams, each with their own scenario.
CARDA is a non-profit organization which trains, certifies and deploys highly qualified search teams to assist law enforcement and other public safety agencies.
These search dog teams consist of volunteers and their own dogs. Volunteers are not paid and do not charge for their services when out in the field.
McDade explained why DVC is one of the many places where they run training exercises for their search dogs.
"DVC is a good opportunity for us to train because number one, there is lots of distractions, meaning it's a high traffic, high pedestrian area with a lot of people around," McDade said. "It's nice to test the dogs in their ability to focus during all the distractions."
Besides practicing at DVC, CARDA has practiced searching in downtown Walnut Creek, BART and in neighborhoods.
Training on campus is also useful because, "Often times a real search starts some place where the person is often, like somebody's house, the search might start there, place of work or school,"McDade said.
Students that volunteer are on campus every day to every other day, contaminating class rooms and spots on campus with their scent.
The training exercise on campus consisted of McDade, two CARDA dog search teams, search dog team in training, an observer and 29-year-old student volunteer Mingjie Zhang, with her son Carlos Goveia.
The the first CARDA dog search team consisted of Gig, an English Shepard and her handler, Lt. Alyson Hart, who is in Berkeley's police force. The second team had Kapo, a German Shepard with his handler Mark Herrick. Both teams searched for either Zhang or Goveia.
Zhang seems very grateful for the CARDA program and would volunteer again for another training exercise.

"Everyone is going to benefit, you never know whats going to happen to you in the future," Zhang said. "It's nice to know that there are services to look after you."
About the Writer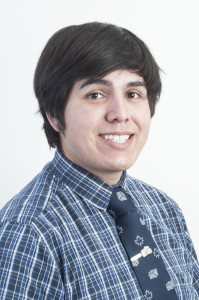 Gustavo Vasquez, Photo chief
Photo editor, spring 2014 and  fall 2013.