Environment and racism tackled at DVC "Solidarity with Standing Rock" forum
A panel of scholars and Native Americans met with students in the Diablo Valley College Student Union Tuesday, on the International Day of Action in Solidarity with Standing Rock. The forum, sponsored by the Latino Student Alliance and the Office of Student Life, focused on the rights of indigenous people to protect their own resources.
Rochelle Diver, a Fond du Lac Native American and member of the International Treaty Council, said that under United States and international law, indigenous nations are sovereign entities. "We make our own laws, we make our own decisions and steward our own lands," she told the packed room of DVC students.
Alex Garcia, a UC Berkeley PhD candidate in the department of history, said, "The reservation, like every other place, is dependent on water." But the CEO of Nestlé "has been saying that human beings do not have a right to water. In other words, you have to purchase it. That's the belief, that's the ideology."
The Lakota and Dakota Sioux tribes of the Standing Rock reservation have been preventing the builders of the Dakota Access pipeline from using their traditional lands for construction since April. The pipeline would carry crude oil from South Dakota to Illinois, passing through the Missouri River, according to the website of Energy Transfer Partners, the company building the pipeline.
Dr. Alberto Ponce, DVC political science instructor said, "The initial plan was to run (the pipeline) right through the predominantly white capital of Bismarck. It was rerouted through where the Indigenous people reside."
Diver said the construction of the pipeline would be in violation of  the 1868 Treaty of Fort Laramie. The pipeline is scheduled to be built on ceded territory, however, under terms of the treaty, the Sioux maintain their inherent rights to hunt, fish, and gather on these lands.
Joye Braun, a Cheyenne River Sioux is quoted on the Camp of Sacred Stones website says, "The dangers imposed by the greed of big oil on the people who live along the Missouri river is astounding. When this proposed pipeline breaks, as the vast majority of pipelines do, over half of the drinking water in South Dakota will be affected… It must be stopped."
On Monday, the Army Corps of Engineers said in a press release that it was halting pipeline construction for 60 days. The statement said, in part, "additional discussion and analysis are warranted in light of the history of the Great Sioux Nation's dispossessions of lands, the importance of Lake Oahe to the Tribe, our government-to-government relationship, and the statute governing easements through government property."
In his closing, Garcia asked the students, "Think about the question of freedom, the question of liberty. How free are we if we cannot defend our basic natural resources?"
About the Contributors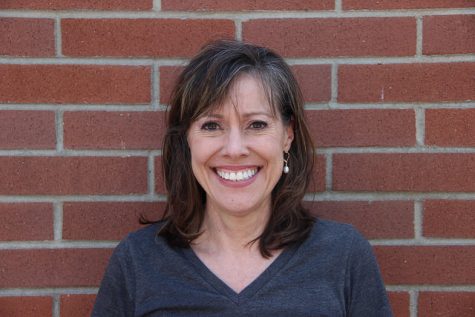 Jeannette Chiappone, Staff member
Nina Cestaro, Staff member