DVC legend and guitar rockstar Steve Sage passes away after fight with prostate cancer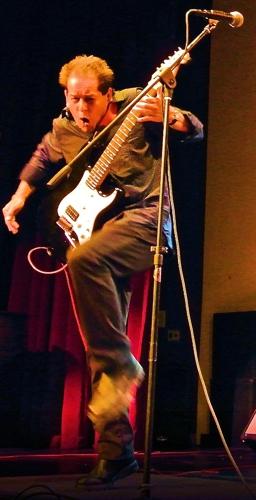 On January 19th, 2017, Diablo Valley College legend and famous guitar instructor Steve Sage peacefully passed away at the age of 61, after battling stage-four prostate cancer for over a year.
Sage earned two Performing Arts degrees, one from Musicians Institute (GIT) and another from Cal State East Bay (Theory/Composition), and has taught thousands of students from Skyline College, Cal State East Bay, SF State, Musician's Institute, and Diablo Valley College.
Michael Laczon, a friend and colleague within the Music department, recollects how "Steve was such an amazing human being. He really connected on a human level with his students. Almost every student became fans of Steve after graduating. He inspired students to realize their musical dreams and believe in themselves. Steve connected with people unlike anyone I've seen. After looking at the chances of survival for stage four prostate cancer, I knew if anyone could pull off a miracle, it would be Steve."
According to the American Cancer Society, prostate cancer identified in the first stage has a 99% survival rating in America. However, when identified in its forth stage, the survival rating drops to 28%.
Performance Arts and Drama professor Ed Trujillo considers himself  "a close friend to Steve. Our students [within the Drama and Music Department] would work together for musicals and other events. Steve had a way to connect with students from a personal level and inspire them to challenge their fears like stage fright or playing in front of crowds. He didn't always follow the rules, and had his own way of doing things. He always had good intentions and had his heart in the right place. Not many people know this, but he was a part-time teacher here at DVC. Probably the most well known, hard working, and recognizable part-time teacher here."
Bruce Cook, another friend of Sage's and colleague within the Music department, remembers how "Steve's music classes served as one of the strongest foundations to the music department for many years. His following and reputation is legendary, and the impact he had on helping countless musicians launch careers is inestimable. I know of one student who studied with Steve over fifteen years ago who has released numerous CDs and developed a tremendous following in Sweden and Germany in addition to performing at venues through the United States."
Dozens of bands have been inspired by Sage over the decades including Mitch Polzak and the Royal Deuces, The Polzak Brothers, Idlewild West, The Element, Ryan Manzi Blues Band, Alhambra Valley Band, Andrew Carriere and the Cajun All Stars, and many more.  
"There was never a day that Steve did not hold his students' best interests at the highest professional level," Cook further explains. "His expectations for them to master musical concepts, interpretation, and performance were high. The music department has lost a remarkable faculty member and this is deeply felt by all. It is difficult to realize that our new and returning students will not have the privilege to learn from Steve's experiences as a renowned performer and lecturer."
After teaching thousands of students within the Diablo Valley College music department and nurturing countless student bands over the last few decades, Steve Sage is a DVC legend and will be remembered through his wife Linda, daughter Danielle, tens of thousands of students, dozens of bands, and the music they all created.