Europe's relief after French Presidential election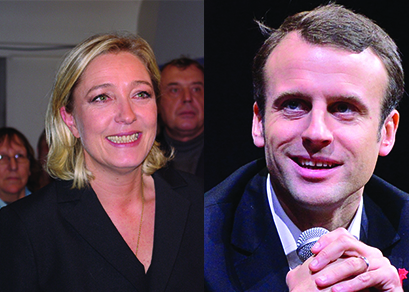 A historical Presidential election took place on Sunday in France, the National Front candidate Marine Le Pen opposed the En Marche candidate Emmanuel Macron, resulting in the victory of liberal centrist Macron.
These elections had been close to a telenovela for the past few months, resulting in the evictions of the ruling Socialists and center-right opposition Republicans who have dominated French politics for decades.
Indeed, one of Europe's most important countries had two very unusual candidates in the final round; a far-right leader and someone who's never held elected office. "These elections were complicated, unexpected, I am confused. Macron has no political past it is very confusing to see him in final round," said French DVC student Alix Folgringer.
The outcome of this election would have questioned the future of Europe and the European Union if Le Pen had been elected. This far-right candidate could definitely be compared to Trump and Brexit, similarities can be found in their programs about limiting immigration and anti-Muslim policies to cite but one.
Indeed, she wanted to renegotiate France's EU membership, then hold a referendum similar to Brexit. The nationalist party lead by Le Pen, Le Front National, has been controversial since its creation in 1972 because of its former President's statements which are, to say the least, questionable.
Jean-Marie Le Pen, who is none other than Le Pen's father, has been accused and convicted several times at home and abroad of xenophobia and anti-Semitism, an image which Marine Le Pen struggled to erase. "Le Pen is like her father, she arouses hate, she is just smarter and this why she is even more dangerous," said Saïd Bohui, French DVC student since January.
The 23 French students at DVC had every reasons to be concerned, Le Pen election could have had tremendous repercussions on French citizens, as the "Automatic" expulsion of illegal immigrants and cut legal immigration to 10,000 per year or abandon the euro.
Macron left his position as Minister of Economy in 2016, a few months before, found his centrist party, La République En Marche on April 2016 in order to run the Presidential elections. At 39 years old, this novice in politics is going to be the youngest President in French history. Even if he won with 66.1%, Macron will have to prove it out in order to counter the nationalists parties during the next legislative's elections in June.
"This is a very good thing that Macron has been elected, I am very happy because I was afraid that an anti-Europe and fascist party would lead the country. Le Pen election would have changed France and Europe's future," said French DVC student Theo Duffaut.
The legislative's elections are going to determine if Macron will have a majority at the Assembly, if the french people are totally supporting him after his election. If the majority at the Assembly is from a party different from its own, he will have to deal with a Prime Minister he didn't choose who is the leader of the winning party at the legislative's elections.
This cohabitation can be delicate because the Prime Minister can obstruct the President in many ways and their views on politics can be radically different, which can prevent any important reforms.
"I hope he is going to be a good President now, initially he is an economist thus he is not necessarily close to the people. He was a banker so he is for a capitalist system," said Duffaut.
But more than just national repercussions, the French elections have shown after The British Referendum to leave the EU and America's election, France is not following the nationalist turn of these two major economic countries. Trumpism is a reality and Le Pen's election would have meant the continuity and the spread of nationalist mentality in Europe.

Macron will take over as President of France on Sunday and is expected to have chosen a government the following week.