Berkeley protest attracts thousands
Thousands of protesters gathered in Berkeley on Sunday in opposition to the Patriot Prayer rally that was to be held in Civic Center Park.
Patriot Prayer, an American conservative advocacy group, announced their intention to march in Berkeley before ultimately cancelling the event out of fear of violence. In response to the group – often labelled as a white nationalist collective – citizens from around the Bay Area swarmed to Berkeley for a counter protest.
Despite the Patriot Prayer event's cancellation, a small number of supporters still showed up to Civic Center Park.
Many protesters at the event were unwilling to give their last name.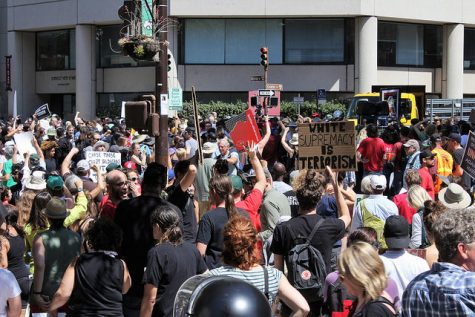 "I came here to listen to the free speech rally, but it looks like it's not happening," said Jack, a 69-year-old Republican. "I wanted to have a dialogue with somebody but no conservative can get a word in."
For most of the afternoon there was little violence.
"There might be some violence later on, but I'm not sure it will come from the alt-right, to be honest," said Wayne, a 55-year-old Democrat and bystander.
This statement rang true when violence broke out as the day progressed.
Joey Gibson, leader of the Patriot Prayer, was confronted by a congregation of antifa counter protesters who pepper sprayed him. After backing away, he reportedly charged officers and was detained shortly thereafter, according to CBS SF Bay Area.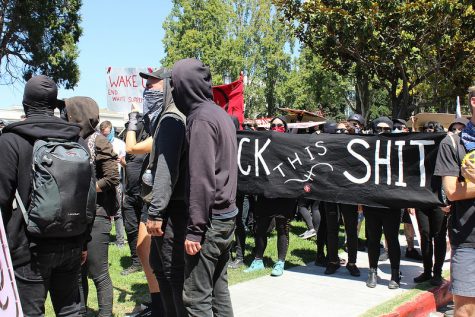 Although the majority seemed to rule, those on the other side of the political fence were upset with this turn of events, believing that they were not being properly represented.
"Nationalism is not racism," said Jack R., a 38-year-old Trump supporter who had been harassed by a group of counter protesters. "There is no such thing as white nationalism, we're all just nationalists." 
However, much of the opposition did not agree.
"It doesn't matter what they call themselves. It's who they choose to affiliate themselves with, it gives away what they're really about," said Shauna, a young liberal from Berkeley. "We're not going to let the legitimization of nazism happen."