Sacramento officer killed identified as DVC alumna
Tara O'Sullivan, 26, was killed Wednesday, June 19 while on duty with the Sacramento police department regarding a domestic disturbance call.
CBS Sacramento stated that O'Sullivan was shot while helping a woman remove her belongings from inside her home on Redwood Avenue. O'Sullivan was later pronounced dead at UC Davis Medical Center. The suspect was taken into custody at approximately 1:54 a.m. after surrendering to officers from the Crisis Negotiation Team.
O'Sullivan also graduated from College Park High School in 2011 and grew up in Pleasant Hill. According to Sacramento Mayor Darrel Steinberg, O'Sullivan majored in child development while at Diablo Valley College before later attending Sacramento State.
"We are proud of her success and of her choice to serve, protect and give back to her community. We are heartbroken that her life was taken at such a young age." wrote DVC President Susan Lamb in an official statement.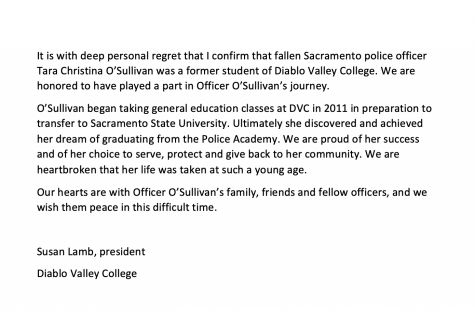 Sac State President Robert S. Nelson stated that O'Sullivan was one of the first graduates in the college's enforcement candidate scholars program. She was hired by the Sacramento Police Department in January 2018 and later joined the academy reported abc7 Sacramento.  
ABC7 also stated that O'Sullivan was described to have  "a bubbly personality and was always willing to help. She was said to have big dreams and a big heart."
It is with a broken heart that we have to share with all of you that earlier today we lost one of our own. While on a call for service in North Sacramento, Officer Tara O'Sullivan was shot and killed. She gave her young life while protecting our community pic.twitter.com/MXr7C4M5qJ

— Sacramento Police (@SacPolice) June 20, 2019
"We are heartbroken for the loss of Tara O'Sullivan, an officer who served our community and the Sacramento Police Department with honor, integrity and commitment. Our hearts and thoughts are with her family, friends and colleagues during this tragic time, and we at the City of Sacramento share in their immense grief." wrote Howard Chan in a press release courtesy of the Sacramento Police Department.