Why 'Grown-ish' is must for DVC students
Hang on for a minute...we're trying to find some more stories you might like.
You know that one class that you take in college, but don't necessarily need?
Well, that's how a group of college students, who are wondering why they're taking a drones class, become a very close-knit group that you call friends.
Zoey Johnson, the protagonist of the TV series "Black-ish" is a freshman in college and is learning how to be and to do all things adultish.
With her group of friends she makes in the drones class, she conquers her fears and learns what college is really all about.
"Grown-ish" is a TV series that takes place at UCLA in the modern day. With all of the relatable stories and the lingo that they use on the show, you feel as if you personally know who these characters are and you can relate to their life stories.
We see the characters go through real-life problems that us college students go through everyday.
Within this group of friends, each student has their own problem that they struggle with.
From living off of financial aid, being open about their sexuality and talking about how people appropriate certain cultures. It also talks about what's going on in the political climate.
That's what makes this show so awesome to watch, they're talking about things that are actually happening within our society and they're getting it right.
When I watch this show, I feel like I'm watching me and my friends talking about things that are happening in today's  world. One of the big topics that me and my friends generally talk about is social media and how it could have such a big impact on your life. The things you do and say on social media not only represent you, but also represent your internship or your job that your working for.
Zoey on "Grown-ish" has an internship with her dream job Teen Vogue. Her boss gives her a lifetime opportunity of following her around and sitting in on big time meetings. All that gets taken away from just one social media post. She learns that she can't just post whatever she wants on social media and she needs to rethink twice before she does post it on social media.
Scenarios like these on "Black-ish" is what correlates to college students lives. We can relate because we've been there before, we've gone through that tough situation that these characters are living on the show.
We can also get behind this show is the lingo, it has also scored an A+ on how the Millennial and Generation Z talk. Certain words like "woke" and "on fleek" are phrases that are used in the character's vocabulary almost every episode.
While watching the show, you'll laugh more than you do regularly in a day, and also yell "preach" when the characters are giving out straight facts.
Since the episodes are only 20 minutes long, it's a total binge-worthy series to get behind.
Other than this show being totally relatable for the younger generation, "Grown-ish" is renewed for a second season, so we'll get to see even more life lessons and shenanigans from Zoey and her group of friends.

About the Writer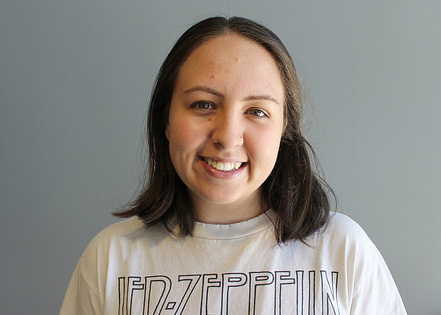 Courtney Donahoe, Senior staff member
Senior staff member, fall 2017. Staff member, spring 2017.