Men's tennis gets no love in final home match
Diablo Valley College men's tennis came up short in their final game of the Big 8 conference against American River College, Saturday March 26, losing 3-0 in doubles and 6-0 in singles.
DVC freshmen Garrett Goldman and Mariano Salvador, teamed up beautifully against American River in the first set of doubles. Challenging their opponents with a strong defensive game, Salvador sent American River diving after the ball on more than one occasion, only to have it spin past their rackets. But it wasn't enough.
"We started off slow, then we picked it up. American River is just really good," said Salvador.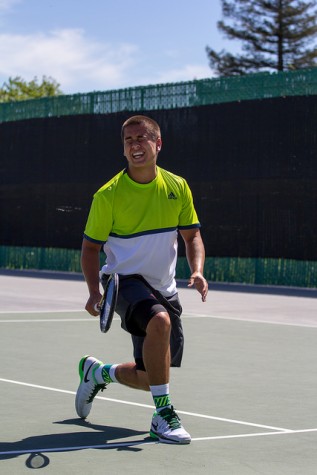 "I had no depth on shots, so everything was falling short," said Goldman of the doubles match. "Mariano carried me for sure, so credit to him. And a ton of credit to American River. They're number two in our division right now, and a hell of a team."
DVC kept moral high going in to their single's matches, and continued a strong defensive attack. American River, however, came into the matches with the same strategy, and both teams had to work hard for points.
American River narrowly won in all sets, as well as winning all matches.
"This is the first team in conference we've lost to. They're number two in the conference, the way things are looking now," said assistant coach, Jeff Jaymot.
"Overall we're probably looking at number three in Norcal," said Jaymot. "We came up short, but hopefully we can get our players to where they need to be. Our team has got tremendously better over the season."
The Vikings now have an 8-1 conference record and place third in the Big 8 overall, behind American River and Fresno City College.