From DVC to your TV screen: Viking football boasts long list of Division I transfers
Two hundred thirty transfers in 10 years.
That's how many student-athletes Diablo Valley College head coach Mike Darr has sent to play football at four-year institutions, many of which are Division I schools.
Since Darr took over as head coach in 2007, his players have received scholarships to play in major conferences such as the Pac-12, Big Ten, Big 12 and Mountain West.
Darr is known for having complex defensive schemes. This makes his players highly marketable in the eyes of four-year coaches.
The defensive schemes Darr runs benefit offensive players as well, especially quarterbacks, who are practicing against tough defenses every day preparing them for what is coming at the four-year level.
However, not enough attention is paid to what Darr does for these athletes in the classroom and how important that aspect is in matriculating to play for their dream college team.
During the week, especially during the season, players often come by Darr's office, not necessarily for help about football, but for help in their assignments or personal life.
"Something our program has always tried to do is look beyond the field; you see everyone and everything you can influence with the role that you have," Darr said.

Here are a few examples of this approach coming to fruition through these standout student-athletes.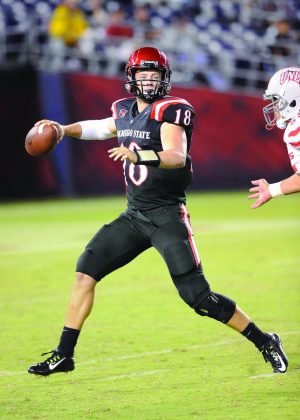 Quarterback Quinn Kaehler '12, San Diego State University

This quarterback out of California High School in San Ramon had a roller coaster of a college career.
Kaehler attempted to walk on at San Diego State right after high school, only to be rejected. The bright side of it all was Kaehler did not waste a year of NCAA eligibility sitting behind four or five other quarterbacks and never seeing the field.
He went to DVC to play for Darr, and that's when Kaehler's first failed stint was put in the rear-view mirror.
As the Vikings' signal-caller in 2011 and 2012, Kaehler developed to be one of the top California community college quarterback prospects.

By his sophomore year, Kaehler had earned Darr's trust and became the focal point of the Vikings' offense. He had a monster season by completing over 60 percent of his 511 pass attempts, throwing for 4,044 yards and adding 38 touchdowns to only 12 interceptions.
According to Darr, Kaehler led the Vikings to their best offense in over 30 years.
"I think (DVC) helped out a ton," said Kaehler. "To be honest, I think if I would've just gone to San Diego State right out of high school, I don't think I would have ever started there."
In 2013, Kaehler finally had his shot at redemption at SDSU, but this time as a more polished junior college transfer. Still, the starting job was no easy path as he started as the sixth-string quarterback.
Eventually, he worked his way up as the backup to the Aztecs' starter Adam Dingwell. After Dingwell underachieved against Ohio State in the second game of the season, Kaehler saw the field for the first time at the Division I level.
It was quite the welcome as Kaehler faced an NFL-caliber defense that included current Pittsburgh Steeler Ryan Shazier. Despite losing that game, Kaehler threw for 216 yards, hit over 60 percent completion and added a touchdown pass.
An impressed SDSU head coach, Rocky Long, named Kaehler the starter and never looked back.
In two years, as the Aztecs' signal-caller in 2013 and 2014, Kaehler went on to be the second all-time winningest quarterback in school history.
"I think going back to DVC, you go back because you love the game," said Kaehler. "So I think when you go to San Diego State, you keep (that) in perspective, you play whether 50 people are watching or 100,000 are watching."
Quarterback Drew Anderson '15, University of Buffalo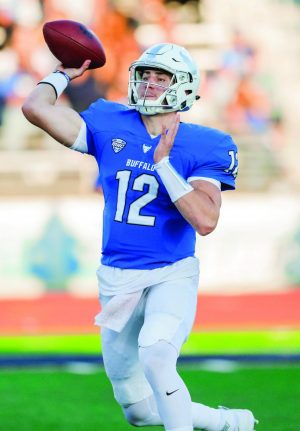 Like Kaehler, Drew Anderson had no Division I offers coming out of high school.
Coincidentally, the Miramonte High School graduate also had an unsuccessful walk-on stint at San Diego State in 2014 before he headed to DVC to play for Darr in 2015.
In one lone year as a Viking, Anderson threw for 3,459 yards and 33 touchdowns.
Darr said that Anderson's "arm was incredibly special" and made throws no quarterback at the community college level could make in the last 15-20 years.
Anderson describes himself as a "late-bloomer."
"I think just being able to come home to DVC and be the guy and get a lot of reps that year was really big for me, allowed me to really become more of a polished player, honestly," he said.

Anderson also attributed his success to the complex defense Darr ran while he was under center at DVC, which pushed Anderson to learn and take that to the next level.
The University of Buffalo finally gave Anderson the opportunity to play at the Division I level, where he showed flashes of brilliance in the 2017 season.
For example, in a nationally televised ESPN game against Western Michigan last October, Anderson threw for a mind-boggling 597 yards, seven touchdowns and zero interceptions. He also added a rushing touchdown.
Yes, you read that right.
Both the passing yards and touchdowns are school records, as well as Mid-American Conference records.
Anderson is still writing his story as he is looking to solidify a spot as starting quarterback for his final year of NCAA eligibility.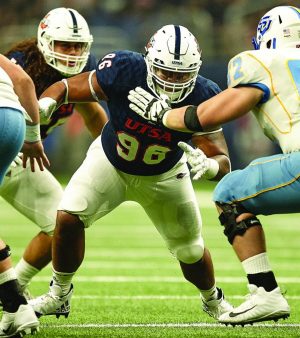 Defensive lineman Franklin Uesi '15, University of Texas at San Antonio
Franklin Uesi came into DVC with little experience after playing only two years of football at College Park High School.
He was a shy kid, but Darr saw Uesi grow on and off the football field.
On the field, Uesi played all but one game in two seasons for the Vikings, notching 57 tackles and adding about 50 pounds of muscle.
Off the field, in the classroom, Uesi grew to have that same competitive tenacity he had on the football field.
"(Darr) just gives us that competitive mindset to treat school like how you treat football," said Uesi. "That's what I did in order for me to see the field at DVC, I got to treat school like the way I treat football."
After a successful student-athlete career at DVC, Uesi got a scholarship to play football at UTSA. He became a key rotational piece for the Roadrunners' defensive line for two seasons.
Uesi finished his senior season in 2017 and participated in defensive line drills at UTSA Pro Day in March. He was the only other defensive lineman with teammate Marcus Davenport doing drills for all 32 NFL scouts.
Davenport, recently a first-round draft pick by the New Orleans Saints, was the center of attention, but his presence opened up eyes for Uesi's talents as well.
Uesi was ultimately invited to the San Francisco 49ers 2018 Local Pro Day in April. He is expecting his bachelor's degree in criminal justice from UTSA this May.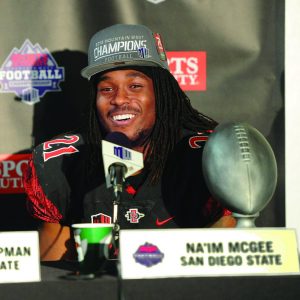 Safety Na'im McGee '13, San Diego State University

Na'im McGee was a huge contributing factor in his lone year at DVC as the Vikings were the number one defense in the state in 2013.
After he was named an all-conference selection in his lone year under Darr, he chose to take his talents to SDSU over Wyoming, Brigham Young and Nevada.
"I really just liked San Diego State when I took my visit," said McGee. "Being in San Diego, just the visit sold me, the type of defense they run. I like the Aztec tradition."
The transition did not come as a big surprise for McGee, Darr made sure of that. Whether it was the intense conditioning to prepare for the physicality of the next level or the intricacies of a unique scheme, DVC prepared McGee for what's to come next.
Some of his memories on the football field include playing in front of over 100,000 people at Penn State against recently drafted first-rounder Saquon Barkley and winning the Mountain West Football Conference Championship in 2015 his junior year.

He was named Mountain West Championship Defensive MVP in that game against Air Force by recording a game-high 10 tackles.
That drive and hunger used for his success at SDSU were established from humble beginnings on the Pleasant Hill campus.
"Like (DVC) was just so competitive I remember when I first got here, it was like 30 DBs… just like competing and every day was competition," said McGee. "By the time I got to San Diego State, it was like being competitive, competition was second nature."
Safety Kyle Trego '15, University of Colorado
Kyle Trego, out of Liberty High School in Brentwood, was actually offered by multiple Division I schools. However, none of them were a part of the Power 5 Conferences.
He took a risk and left those offers on the table to play for Darr and trusted going to DVC would pay off in the end.
Darr believes that Trego was one of the best tacklers he's seen because he was so explosive and wasn't afraid to hit guys. Trego and DVC were a perfect match on the field.
"Coach Darr was probably the main reason that I ended up not going to the bigger school names and go the junior college route," said Trego. "He put a lot of confidence in me. He knew that I was worth more than the offers I was getting."

Indeed, that decision paid off.
In his only season at DVC in 2015, Trego earned All-State honors by recording 50 tackles and four interceptions in 10 games in a Viking uniform. He was also a vital player on special teams as he added three blocked kicks on the year.
That incredible season got him a scholarship to play in the Pac-12 at the University of Colorado.
After an injury-riddled sophomore year at Colorado, Trego continued his magic on special teams his junior year in 2017.
Against USC on Nov. 11, he recovered a blocked punt and returned it 21 yards to the 1-yard line to set up an easy Colorado touchdown.
Trego played in nationally televised games against first-round NFL draft picks, quarterbacks Sam Darnold of USC and Josh Rosen of UCLA.
"Sam Darnold, I did not expect him to be as fast as he was so he caught me by surprise right there, added another element to his game," said Trego. "I think (Josh) put the ball in tight spots; we had to really tighten up our coverage."
Trego is currently entering his senior season at Colorado and is looking to capture a starting safety spot.
Defensive end Chris Mulumba '16, University of Colorado
Born in Finland to natives of the Democratic Republic of Congo, Mulumba never played a single down of football in high school. He was a three-time Finnish national judo champion and served his mandatory year of service for the Finnish military.
The physical tools were clearly there for him. It was a matter of how it all translates to playing defensive end.
"His strength, explosion, understanding of leverage and sheer toughness are obvious crossovers, but his success stemmed from more than just physical work," said Darr. "He absolutely refused to allow financial strain, language barriers or a lack of experience deny his desire to be great."
Mulumba was another Viking who exhibited everything that was required to be great as a student-athlete. If he wasn't in the weight room or on the field working on speed, agility and technique, he was studying film or meeting with tutors to ensure he was on track to get his degree, according to Darr.
That incredible overall focus caught the eyes of Division I programs such as Fresno State, Iowa State and Colorado.
Mulumba initially signed with the University of Central Florida, but ultimately did not attend and sat out the 2016 season. He eventually signed with Colorado with the help of his current teammate and fellow Viking, Trego, who recommended him to the Buffaloes' coaching staff.
Darr saw a combination of explosiveness, strength and a constant motor to compete in every game, and the Colorado staff must have seen the same.
In 2017, his first season for the Buffaloes, Mulumba started the last few games at defensive end. He recorded 33 total tackles, including a game-high of four solo tackles registered against USC and Arizona State. Against USC, he took down recent NFL draft pick, Ronald Jones II, to notch his first solo tackle for loss.
"It's great, it's like living the dream, everyone wants to play against the best," said Mulumba on facing off against Jones, one of the nation's best college football players.
Like Trego, Mulumba is entering his senior year and is also looking to secure a starting spot on the Buffaloes' defense.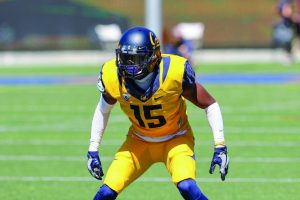 Cornerback Antoine Albert '14, University of California, Berkeley
Aside from getting zero offers out of high school, Antoine Albert faced different problems off the field.
Growing up in Oakland, things were hard and his family did not have a lot of money. On top of that, Albert has a severe stuttering problem, which may have, unfortunately, hurt his chances at being recruited.

Albert's struggles may have opened the door to unlock his biggest strengths.
"Antoine, what was so special about him was that he never a guy that said 'hey, poor me,'" said Darr. "The battles he was forced to deal with, that other people haven't had to, are what made him so strong."
Albert never wanted his condition to define him, and he learned to embrace his struggles.

He not only successfully persevered through his personal issues, but Albert has also translated his success to football.
According to Darr, Albert is a guy who will lock a receiver up because he is physical, has long arms and is an excellent tackler. His intelligence on the field is also nothing to sleep on. He understands patterns, reads and other schematic complexities of the playbook and uses it to his advantage.
This success on the field and in the classroom landed Albert a scholarship to play at UC Berkeley where he received his bachelor's degree in 2016.
Albert is currently working on his master's degree at Southwestern Oklahoma State University in Sport and Fitness Administration/Management.
"Coach Darr changed my life such as gave me a second chance showing that he actually cared about us, teaching us about life and football," said Albert.
Editor's note: Anderson is entering his final year of NCAA eligibility.