Day of the Dead brings celebration
Brightly colored alters adorned with flowers and decorated skulls drew a crowd of interested students into the Student Union area. There they were greeted by music, food, and the warm personalities of Latino Student Alliance (LSA) members.
While the atmosphere was certainly festive, it was clear that this was no place for trick-or-treating; rather, it was an event organized to celebrate Día de los Muertos or "The Day of the Dead as it is known in English."
Día de los Muertos is a holiday held on Nov. 1 and 2 which celebrates and commemorates families, friends, and loved ones who have since passed. While it is traditionally a Mexican festivity, the holiday is celebrated throughout the world, with each region having its own variation on the occasion. To acknowledge this, the LSA set up several altars to represent North, Central, and South America to educate students about the different ways each region honors the dead.
"It's important [for us to educate DVC] because death isn't just tied to Latin regions in the world," said Michael Merino, president of the LSA. "Death is everywhere. This is a holiday which commemorates those who have passed. This is universal."
At the altar representing Mexico, students were able to write down names of passed loved ones onto colorful paper butterflies and pin them to the altar. "The way this works is that this is a window or door for your soul or spirit to visit your family or whoever is still alive," explained Victor Guzman, member of the LSA. "The path is made of marigold flowers which represent a trail or a landing for your spirit to come in and visit… the candles are there to light the path. You put the name on the butterfly so its spirit can fly in and out of the window."
Students were encouraged to not only learn about the traditions of Día de los Muertos, but to also take part in it. A free face-painting stall soon attracted an eager crowd, where members of the LSA patiently painted intricate and elaborate skull designs on the students' bare faces.
"The face-painting symbolizes death, but it is also something fun to encourage students to get involved," said Merino.
The vividly colorful decorations of the altars, as well as the exuberant enthusiasm of the LSA seemed to be a stark contrast to the typical somber and melancholy mood of traditional Western funerals.
"We don't think of it as dying – we think of it as passing onto the next step," explained Guzman. "Pretty much, we make fun of the dead. The face-painting, the sugar skulls, or any skull with decorations, it is our way of making fun of it in a good way. It's not insulting, but we have fun with it… You know in American culture we think of the Grim Reaper, dark with a robe… scary right? Here, we have an elegant lady who comes and gets you when you die. She's funny looking – we make fun of her."
To feed the students' growing appetites, the LSA also served free birria, a traditional Mexican meat stew, with rice. "It's not the traditional food for Día de los Muertos, but it's what we've got!" laughed Jorge Barajas, LSA's community outreach representative.
Once all the students were adequately fed, the crowd was treated to a live performance by the DVC Dance Club. Their dance, while not directly relevant to the day's celebrations, was met with huge enthusiasm from the crowd and provided a fun, exciting conclusion for the day.
"We have a really good relationship with the dance club," said Abby Romero, treasurer of the LSA. "We sometimes actually trade performers – if we need anybody to dance "bachata" for example, then we can have one of them to come in and help out. And if they need help then we help them out too!"
"Our club is not exclusive to Latin people," reiterated Merino, who stressed LSA's dedication to form relationships with other clubs. "We are open to other cultures and other regions of the world, and this event illustrates that. Death is universal and brings us together."
Leave a Comment
About the Contributor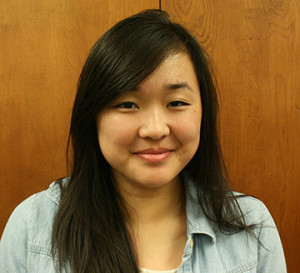 Samantha Chiu, Managing editor
Samantha Chiu is the spring 2013 managing editor. She was sports editor in fall 2012.