Unique Art Form Finds New Home at College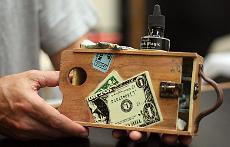 DVC's permanent art collection now includes a trompe l'oeil teapot by well-known Bay Area ceramic artist Richard Shaw. It is the first acquisition by the art department in 25 years.
Shaw specializes in trompe l'oeil art, which in French means "to fool the eye."
The teapot, made entirely of porcelain, looks like an old, wooden artist's supply box.
"Only if you're allowed to pick it up, do you realize that it's clay and, beyond that, a teapot," said art instructor Karl McDade. Art department chair, Michelle Krup, said the purchase was made possible last month by a one-time, $5,000 grant from the DVC Foundation. She refused to disclose the actual cost of the teapot.
The remainder of the grant will be used to restore and reframe old prints and to restart the President's Student Art Awards, which were not given last year due to lack of finds.
The teapot is now on display in a window of the applied and fine arts division office in the Humanities building.
Indeed, many people walk the DVC campus unaware that artwork from the permanent collection is tucked away in offices, classrooms and boardrooms or displayed for all to see in hallways, the library and the cafeteria.
"It's a treasure hunt all over campus, and we're just scratching the surface," said art instructor Mark Messenger while taking an Inquirer reporter and photographer on a recent tour of paintings, photographs, ceramic and multimedia sculptures, digital artwork and pottery, all of it from the DVC permanent collection.
The permanent collection is made up of three separate collections: art produced and donated by art department faculty; winners of the President's Student Art Award; and artwork purchased by the college from artists outside the DVC community.
The permanent collection includes original works by well-known historical and contemporary artists, as well as some modern prints, Krup said. And while most of these pieces are kept in storage, some are placed in secure locations throughout the campus.
Small Francisco Goya and Alberto Giacometti prints are housed in Michael Almaguer's office in the Humanities building. Almaguer is the dean of applied and fine arts.
"I was asked if I would like to have them placed in my office," Almaguer said. "I said 'sure.'"
While no one seems to know exactly when the permanent art collection first started, art gallery director Arthur Scott King remembers hearing about an art rental program that allowed faculty and staff to rent out pieces of art from the collection in the 1970s.
"For $1 a semester, you could take it home, put it in your office or your classroom," King said. While the art department wants to continue to bring artwork out of storage so that it can be displayed around campus, the staff is also mindful of security issues.
"We would be happy to have all of the work out all of the time, but because of security issues it's not possible," King said. King said their ultimate goal would be to have a gallery annex to house valuable pieces from the permanent collection in a secure location.
Last spring, the art gallery was the scene of a daring weekend burglary in which works by artists Liz Hickok and Desiree Holman were stolen. A former DVC student, Leroy Fisher, is charged with possession of stolen property and is scheduled for trial Dec. 12.