New jazz director proves his worth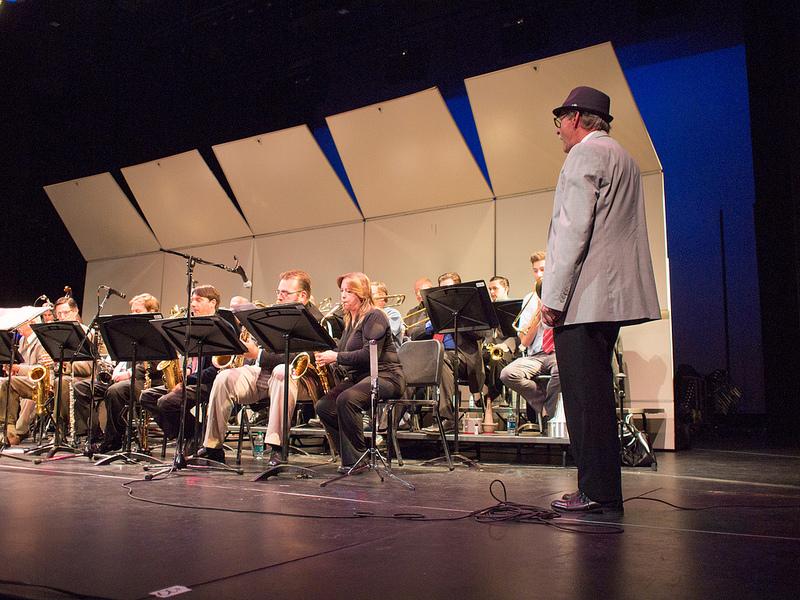 Matt Zebley came on board to DVC's music department with big expectations, especially considering his extensive resume includes a Grammy award. As director of the 3 Way Jazz concert, hosted Wednesday, Oct. 2, he blew those expectations out of the water. Zebley's debut performance as the new jazz director was answered with roaring applause after each song, and solidified his role as an integral leader in DVC's performing arts department.
Wednesday night's performance kicked off the concert season with additional performances by Bret Peppo's vocal jazz, and Rory Snyder's Night Jazz Band. Zebley's students were up first and opened with "Tall Cotton" followed by Jimmy Davis' "Lover Man," which featured Brenda Parks' soothing voice and Hanna Landsman's bluesy alto saxophone. Both women shined equally, illuminating the stage with confidence and passion.
Zebley's ensemble was just the beginning of a great night for jazz fans. Peppo's vocal jazz group also performed well, the highlight of their performance an acapella rendition of "Linus and Lucy." The woman's choir followed with an almost equally strong performance of "It's You."
Rory Snyder's Night Jazz Band brought their years of experience, and their skill was evident in their relaxed style. Snyder preferred an off hands approach to leading his band. He would causally walk around the stage adjusting microphone stands, and giving helpful gestures to individual musicians, but for the most part he let the troupe jam away. The band was relaxed and had great chemistry, and all the while having fun hitting every note. It was everything that a jazz performance should be.
The final song, "Time Check," by Don Menza, ended with solos from John Christensen on trumpet and Mike Williams on guitar, and finally Paul Yonemura's thunderous drum solo finale. It was a fantastic way to conclude a night of great music.

For their part, Zebley's students regard him as a welcome addition to the department. "Zebley is making the group tighter," remarked Trevor Murphy, a second year music student who performed upright bass in the first two sets. "He's focused on detail… and improving each student. [The band] has reached a new level."
Though contemporary airwaves have largely been crowded by the rock, pop, rap, and dance genres, Jazz has seen a resurgence thanks in part to the success of artists like John Legend, and Norah Jones. But there's little denying that Jazz, however influential, has taken a subordinate role in the mainstream. This fact looked like it was the furthest thing from concert-goers minds Wed night. DVC's students and instructors collaborated expertly, and dazzled anyone within earshot with great music, regardless of their favorite genre.
Visit DVC.edu/music for more info on upcoming musical performances.
Editor's note: this story was updated on Nov. 5 to correct the names of the soloists on "Time Check."