Unconventional DVC Professor Spurs Thought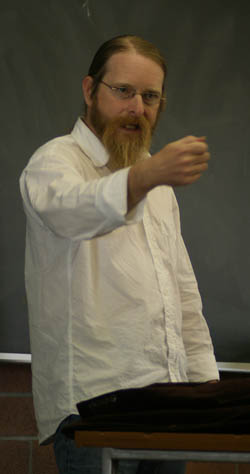 A "corporate American flag" decorates one office wall, its 50 stars replaced by the Playboy bunny, McDonald's golden arches, the Nike swoosh and other marketing symbols.
Radical bumper stickers cover the file cabinets and history tomes share space with books on media censorship and the alternative textbooks he uses in his classes.
Mickey Huff, 38, is not your typical DVC professor.
From his full beard and long pony tail, you might think "liberal Berkeley hippie." But he grew up in a small coal town in Pennsylvania and has only lived in Berkeley for 10 years.
Not that Huff doesn't share some of the values of the '60s peace and justice movement. He recently helped to promote the resurgence at DVC of Students for a Democratic Society, one of the era's most famous student run-activist groups.
Huff teaches two history survey classes and "Critical Reasoning in History" (History 122). While he has worked at DVC for close to a decade, he only became a full-time faculty member last year.
Instead of asking students to regurgitate facts from history textbooks he says are written by the "corporate media propaganda machine," he uses alternative texts like the "Peoples' History of the United States," "Project Censored" and an ever-growing list of websites that offer differing perspectives.
Huff's critical thinking history class is titled "America, 9/11 and the War on Terror: Media Myth Making as Censorship and the Propaganda of Historical Construction." In it, he asks students to look at history and current events, such as 9/11, in a new light.
"[We] go back and look at, what are the official narratives about 9/11 that the government and the mainstream, corporate press have put forward? versus, what are the alternative narratives based on facts?" he said in a recent interview.
And while the course does not attempt to convince students of some alternative version of 9/11, it does try "to get them to understand…how little we seem to know about it," Huff said.
Huff is greatly interested in media censorship and has spent most of his career researching this topic. He recently became the associate director of the Media Freedom Foundation and Project Censored.
A media watchdog group based out of Sonoma State University, Project Censored researches national news stories that are ignored, underreported or censored by U.S. mainstream media and every year publishes the "Top 25 Censored Stories."
Huff co-authored two chapters and edited many more in the latest edition, "Censored 2009," and is currently co-editing and writing for, "Censored 2010."
"He's not one of those people that pushes his own agenda on students," said Frances Cappell, 22, a former student and his teaching assistant last semester. "He encourages free thought and independent thinking."
Now a full-time intern at Project Censored, Cappell described Huff as "a human encyclopedia of really interesting facts."
Alicia Sanhueza, who is in his "Critical Thinking in History" class, likes that Huff is unbiased and said he bashes Republicans and Democrats equally when they are in the wrong.
"It's nice and refreshing that he doesn't judge you about what side you're on," she said.
Huff said he does what he can "to impress upon people the importance of understanding their own histories, the importance of respecting other people's narratives and stories and the significance of being a well-informed electorate in a free society."
On a recent afternoon, William Backer left LA 118, saying, "I wish this class was five days a week." He had just concluded an animated, 25-minute discussion with Huff after class ended at 1:45 p.m.
Backer said his reaction to his new history professor during the first class meeting in January was, "Oh, no! A crazy 9/11 conspiracist!" But that soon changed, because "he wasn't telling us what to believe."
Backer described Huff as "dynamic, passionate, fair …totally approachable."
Although he lectures at universities around the country, Huff said he teaches full time at a community college "because it is a community."
"The idea," he said, "is to try to get as many different people with as many different ideas as you can to come here and give people things to think about."
To this end he advises the students of SDS and once encouraged students to create a campus Republican club.
"I respect that he lets us choose," said SDS club member Alicia Fambrini. "He refuses to give us his opinions because he doesn't want to influence ours. He wants us to decide… [and] to think about what we're doing."

(J120 student Linda Wolf contributed to this story.)
Leave a Comment