DVC faces increased danger of losing accreditation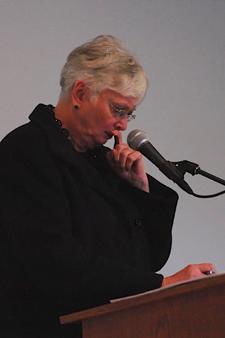 DVC is at risk of losing its accreditation, according to the 2008 report released by the Accrediting Commission for Community and Junior Colleges.
About 100 anxious DVC faculty, staff and managers crowded a meeting early this afternoon, called last minute by DVC President Judy Walters to address the findings of the report released Wednesday afternoon.
"I've got some good news and some terrible news," said Walters as she opened the meeting. "The issues of grade security and integrity that were the subject of the special report appear to have to have been satisfactorily resolved."
Walters moved quickly on to the bad.
"The commission placed us on 'show cause,'" said Walters. "It means, show cause why (accreditation) shouldn't be terminated."
"It's a very serious sanction, and it's a shocking sanction."
"It's a very serious sanction, and it's a shocking sanction."
The commission files a report every six years, with the college filing its own required progress reports in between evaluations. Part of this year's report included a separate finding that DVC had satisfactorily fixed security breaches that enabled student workers to sell grades out of the admissions office for six years, a scandal school officials kept secret for more than a year. The problem now is that four of five deficiencies from the 2002 report remain unresolved in the eyes of the commission.
"This is not the college I found when I came," said Walters, as she broke into tears, referring to the many problems she inherited when she became president in June of 2007.
Walters assured the audience the problems would be resolved and DVC would keep its accreditation.
"We have demonstrated the ability to come together and face these challenges."
The college has two years to make changes. And it will have a chance to turn in a new study by Oct. 15, 2009 which could change the college's status within a year.
"We have demonstrated the ability to come together and face these challenges," Walters added. "We are going to move forward, we are going to do this."
One of the issues raised was a concern that there is not enough transparency in the administration. "It's as transparent as it's ever been," said United Faculty vice-president Glenn Appell.
"The majority of our campus is very much behind Judy Walters," he added. "We just have been outraged that a college with the academic excellence and reputation of DVC would be thronged with the removal of its accreditation because some documents were filled out incorrectly."
Walters said the report will be posted on the school's website by the end of the week.
The Inquirer will have more on this story in its print version of the the paper, on stands Feb. 12.