Student Remembered by Editors and Staff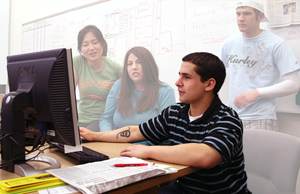 About 100 people attended a graveside service April 2 at Oakmont Memorial Park in Lafayette for Jerry Backman Jr., a DVC student and a former editor in chief of the Inquirer.
The crowd included family members, friends who dated back to grade school, former students and faculty from Ygnacio Valley High School and DVC, friends from DVC's 2007 London program and members of the Inquirer staff.
Backman died March 27 after his car went over a cliff on Grizzly Peak Boulevard at its intersection with Grizzly Terrace Road in the Oakland hills. He was 22.
Despite repeated calls to the California Highway Patrol, the Inquirer could not confirm news accounts in which the CHP said witnesses told investigators they saw his car speeding down Grizzly Terrace Road and that he appeared to deliberately drive off the cliff.
Backman's sister, Jackie Backman, said Monday she had looked through her brother's computer files and found he had completed his homework for a Chinese class the night before his death. She said she also recovered his wallet from the wrecked car and discovered he had withdrawn $30 from an ATM machine about a half hour before his death, the money and receipt still in his wallet.
"It doesn't make sense that he would take out $30, if he was going to do that," Jackie Backman said, avoiding the word "suicide."
At the time of his death, Backman was attending DVC and concurrently enrolled at UC Berkeley. He lived at home with his mother in Bay Point.
Backman first enrolled at DVC in the summer of 2003 and then returned to take classes in the fall of 2005 through the current semester.
He was the editor in chief of The Inquirer during the spring 2008 semester, where he wrote under a name from his grandfather's side as "Jeremy Fredrickson."
At the Inquirer, he covered stories ranging from anti-gun protests to an article criticizing the college district's plan to control the flow of information given to the media.
He also wrote articles about DVC's study abroad programs and his own experiences with the London program during the fall 2007 semester.
"London is a multi-cultural paradise packed with more sights and attractions than you could experience in an entire lifetime," Backman wrote in a feature article titled "Top destinations for spring break."
Lenore Gallin, who was the adviser for the London program that semester, said, "I had students who hardly ever talked to the local people, but Jeremy wanted more than that. He wanted to get a feel for the country."
Brittany Gorup, who lived next door to Backman in London and often traveled with him, said he once took off on his own for Morocco, returning with tales of riding a camel. She said he talked about wanting to travel the world as a bohemian writer.
Jacob Tyspkin, who shared an apartment with him in London, said Backman was nicknamed "The Ninja," because of his ability to disappear without anyone noticing he was gone.
"He was the lone wolf of the group," Tyspkin said.
Jackie Backman said her brother was more outgoing when he returned home.
"It showed him a whole other part of the world, a whole different side of life," she said. "When he came back, he was changed for the better."
During his tenure as editor in chief, Backman won an award for an opinion piece he wrote on the right to bear arms from the Journalism Association of Community Colleges, Northern California.  The Inquirer staff also won the prestigious General Excellence award for its work during spring 2008.
"Opinion pieces were his strength," said Jean Dickinson, the Inquirer's faculty adviser. "He wrote some very good ones, but the one I remember the most was about the London study abroad program."
In describing his adventures abroad in that piece for the Inquirer, Backman wrote: "I wandered around the hauntingly deserted streets of Prague in the middle of the night, flirted with beautiful women in high school-level French in Marrakech, and stood among the remnants of the greatest civilization that ever lived in Athens."
Dickinson described Backman as "something of an introvert," although he was liked by the staff.
Gallin also talked about Backman's reserved nature.
"I was constantly discovering things about him," she said. "He didn't just open up the door and say, 'Come on in.' You had to go in quietly."
Gallin described Mr. Backman as "almost everything I would hope for in a student, except for this sad ending."
Backman's passion for journalism began at Ygnacio Valley High School, where he worked on the paper for three years and was co- editor in chief during his senior year, Jason Haley, faculty advisor and journalism teacher said.
He is survived by his mother Daisy Backman and sister Jackie Backman. His father Jerry Backman Sr. died in a car accident in Oakland in 2002.