Otters invade DVC pond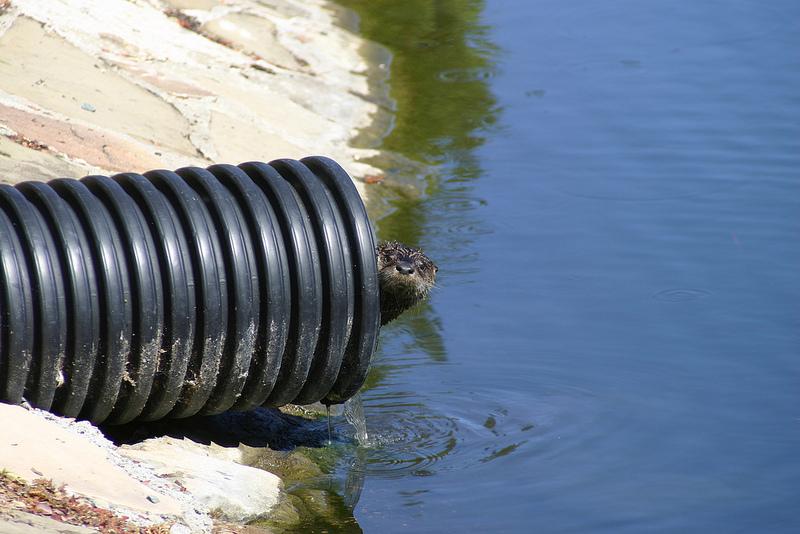 DVC's duck pond is a popular stop for students who want to relax, study, or eat between their classes. On Thursday morning, some out of town visitors came by to visit.
A family of otters unexpectedly popped up in the pond to hunt. Five otters, collectively known as a raft, were reported to be swimming, playing and hunting in the pond.
Londra canadensis, also known as the North American river otter, typically live in small creeks, which makes their visit to DVC all the more peculiar. Due to human encroachment on their habitats, many have learned how to navigate man made canals and drainage pipes like highways to get to their prey. A large black drainage pipe by the southwestern edge of the lake appears to be the source of the otters in the pond.
A sizable crowd of students gathered by the edge of the pond to take pictures, but kept their distance so as to not disturb the wildlife. The otters stayed mostly in the middle of the pond, while a few would occasionally swim close to the shore, where onlookers could see crawdads in their mouths.
Culinary students were the first to see the otters appear.
"I was out grilling, when I looked out [from the balcony] and saw a whole bunch of otter out there," DVC culinary student Dexter Flores said. "They came out around 11 in the morning."
The pond is notorious for being polluted and littered with garbage, yet it is home to a wide range of animals. Small fish, turtles, geese, ducks and crawfish, the otters' food source, call this micro ecosystem home.
DVC students Kristi Bouchard and Robert Meyer reported seeing the otters in the same pond two years ago. Just like before, they did not stay for long.
"They get what they want and then they leave," Bouchard commented.
Soon after the otters were sighted, they climbed back into the drainage pipe. One was separated from the group before heading back into the pipe to join his raft.
It is unclear if the otters will reappear again this year, or if they are already migrating to the next hunting ground.