Past and present unite as DVC delves into spring ball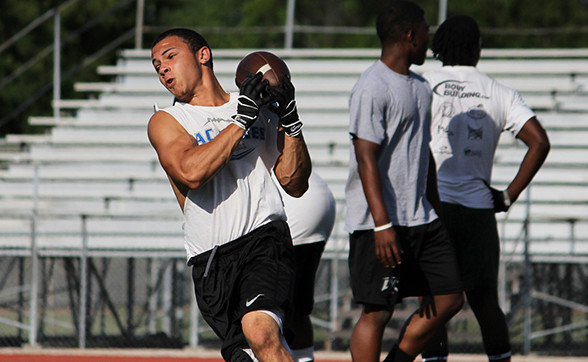 DVC football sends off a team's worth of talent to four-year institutions, also looking to reload for a big year.
Coming off of a successful season, capped off with an East Bay Bowl victory over Laney College, the Vikings are welcoming back their returnees, as well as scouting a new crop of talent.
Head coach Mike Darr has a very bright outlook on the upcoming season, raving about his veterans' presence . "The guys who have been here have done a great job of taking on leadership roles, and helping the new guys get acclimated."
He's also excited about the overall explosiveness of his team, particularly of his offensive and defensive lines. And it is a defensive line which boasts the top recruit in the entire country in Tui Talia.
Of his recruitment, which was exemplified by the constant presence of Oregon University's main scout around him, Talia said, "It's a huge, new experience I'm going through. A lot of coaches are hitting me up on Facebook and stuff. It's just been wild." And what are his goals for the upcoming season? "I just want to get, like, over 10 sacks. And that's about it," he said with a laugh.
As impressive as they appear, Darr didn't stop at his trench players, pointing out "an impressive group of running backs" and "very skilled and intelligent defensive backs."
Darr spoke confidently of his team's potential, stating his belief that they can play for the Nor-Cal championship. "That East Bay Bowl was a special one for us, but we're capable of more if we continue down the path we're on."
Although he is looking ahead, coach Darr remains aware and attentive of the players he's watching transfer to four-year programs. The destinations include household names such as Cal, UNLV, Utah, Houston, BYU and San Diego State; as well as lesser known schools, like Redlands, Malone, Southwest Oklahoma, Southeastern Louisiana, Eastern New Mexico, Duquesne and Texas State. The one oddity is wide receiver Diante Jackson, who is mulling over attending Whittier College, joining the Arena Football League, or jumping to the Canadian Football League.
Wide receiver Andrew Lewis, a Utah signee, spoke about the plethora of transfers. "I feel like it's putting DVC on the map. All the athletes that are around the Concord area are going to want to come down to DVC to try to better their lives and get a full ride scholarship."
Lewis also talked about his own transfer process. "Man, now that's exciting. That's really a great accomplishment, because I know how much work I had to put in to get where I'm at now. Not too many kids can say they're playing in a Division-1 league. So to be able to get that opportunity is an amazing blessing for me."