John Dong: The Unsung Hero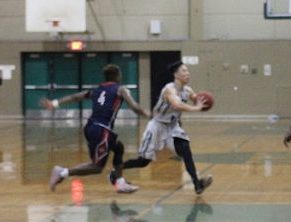 When people think of DVC basketball, the names that often come to mind are Rodney Pope or Jovontae Carelton, the team's leading scorers, or Eric Nielsen, the team's big man that excels at patrolling the paint. But, there is another Viking who this team could not perform without.
A red shirt freshmen because of an Achilles injury last year, John Dong often comes off the bench bringing stifling defense along with great energy and toughness. Listed at only 5'11, one would think that his defensive prowess wouldn't be his strong suit, but it is the exact opposite.
When I spoke to the men's head basketball coach, Steve Coccimiglio, about what John means to the team he said, "He's tough, he goes for every loose ball, he doesn't hesitate at all defensively and to go for loose balls and rebounds. He gives 100%."
In the second match up versus American River College, Richard Reed dropped 32 points on your Vikings in a loss.
With the third match up residing at DVC, Coach Coccimiglio deployed Dong as the primary defender on Richard Reed after torching Pope early on. Once Dong matched up on Richard Reed, he didn't score another point in the game.
When I asked Dong if the game plan going into the game was to be matched up on Reed, he said, "Honestly no, but when I started showing him I can, I was the guy. He's my responsibility and I don't want to lose and I know he's the man so I gotta stop him."
This is the kind of mindset needed to lock down your opponent. It doesn't matter how well he played last game, or in the first half, all that matters is doing your best while guarding him. This is what John Dong brings to the team.
A widely used analogy in sports is that you need a short term memory to be successful. This means that no matter how the game is going, you can't let what happened affect how you play still. Even though Reed had such a stellar game against us last time, and he had a few buckets going in early on this time, it didn't affect John and his desire to put the clamps on to stop him from being a factor.
After the win against American River College, I asked Carelton what Dong means to the team. He opened up saying, "I would say John is our toughest player. On the ball, off the ball. Basically every category of the game."
These kind of players are vital to team success. You can have the very best player in the country on your team, such as Ben Simmons last year playing for Louisiana State University, but the team didn't even make it to the NCAA tournament. Without the role players and glue guys to bring it all together, then team success is hard to come by.
The players on this team know how important John is even though he isn't stuffing the stat sheet every game, so it's time for the public to know as well.
"We're counting on him next year to be a leader on our team," said Coach Coccimiglio.